The Top 4 ChatGPT Alternatives for Your Business
ChatGPT was trending for months now, and people are still frustrated by frequent ChatGPT downtime and non-factual responses. You can overcome these limitations by exploring ChatGPT alternatives out there.  ChatGPT is a great artificial intelligence masterpiece, this OpenAI conversational tool generates astonishing results for coding, creating content, composing poems, songs, etc. But, as mentioned above, ChatGPT has its limitations. Therefore, I would love to recommend ChatGPT alternatives to you.
1. ChatSonic
If your main concern is the updated information such a tool can provide, ChatSonic was built with you in mind. This conversational AI tool provides updated and factual information with the help of Google's information network for the latest happenings. ChatSonic is developed on top of GPT3, so its potential is quite expansive.
While ChapGPT is limited to data and inputs up to 2021, ChatSonic overcomes this limitation using natural language processing (NLP) and machine learning to access the internet to generate accurate data on current events, including news, trends, and conversations.
And that's not all.
Do you love working with Siri or Google Assistant? With ChatSonic, you no longer have to spend hours typing your prompts manually. You only need to give a voice command, and ChatSonic will do the rest. The best part? Like Siri, you will get responses as a voice! Once done with the conversation, you can export it to word or PDF. Convenient, right?
If you have tried to generate an image with ChatGPT, the likely response was, "I'm sorry, I am a text-based AI and don't have the ability to generate images." On the contrary, ChatSonic has an inbuilt image generator that produces excellent images based on your prompt.
In summary, ChatSonic is like ChatGPT but with images, Google integration, voice, and API.
ChatSonic pros
ChatSonic cons

Generates factual content in real-time.
Understands voice commands and reads back responses.
Has 16 different personas for tailor-made conversations.
Easy to use.
It can generate images.
Has a mobile app (currently available on Play Store, but will soon be available for iOS users).
Remembers conversations.
You can edit, share, or download the conversations.

It's free for up to 2,500 words (paid subscription starts at $19/month).
ChatGPT vs. Jasper
Formerly known as Jarvis, Jasper is one of the best AI writing tools. Jasper is ideal for companies generating high-quality content within a short time frame. Jasper Chat — a chat interface based on GPT 3.5 — uses a fine-tuned platform with over 50 templates to churn out content for blogs, social media, AIDA, PSA, etc. Unlike ChatGPT, which is open to anyone, Jasper suits businesses in marketing, sales, etc.
What about pricing? The Jasper Chat starter pack is free, but you need Jasper's Boss and Business plans to unlock SEO mode, increased character limit, and other features. The Boss Plan starts at $59 per month, while the Business plan starts at $499 monthly. It's not that cheap, but the model gives you a 5-day trial period to establish whether it suits your needs.
Jasper pros
Jasper cons

Supports over 25 languages.
Creates original content that ranks high for SEO.
Generates original content 10X faster.
It's excellent for short sentences and ad copy.

It's costly.
Limited to data beyond September 2021.
ChatGPT vs. Google Bard
Bard is Google's response to ChatGPT. Powered by LaMDA, or Language Model for Dialogue Applications is another upcoming ChatGPT alternative. Developed from OpenAI, LaMDA prompts on natural language input to generate a response that is contextual and sounds natural. And that's not all. LaMDA has the unique potential to follow-up conversations.
While LaMDA and ChatGPT are both language models, LaMDA is a more flexible, general-purpose model for a wide range of NLP tasks. Users can use LaMDA to summarize texts, translate languages, and answer questions sensibly.
LaMDA is currently available on Google's AI Kitchen. You must register to join a waiting list when the app is available to download on Play Store or iOS or wait for Bard to be released in your region.
LaMDA pros
LaMDA cons

It can comprehend complex inquiries.
Provides specific and contextual responses.
Can generate responses to open-ended prompts.

Hard to access.
Limited capabilities compared to ChatSonic and ChatGPT.
ChatGPT vs. Replika
If you are looking for an AI chatbot for companionship and help with relationships, Replika is a great place to start. Developed from GPT-3 language model, Replika uses an "autoregressive" model to create responses with a human-like text. It relies on previous encounters (in this case, prompts) to understand you better for meaningful, deeper conversations. Simply said, the more you chat with Replika, the more it understands you.
You can talk to it about anything and everything. Had a bad day? Lonely? Turn to Replika. This AI chatbot acts like a pal, but one that responds to your messages promptly. You can talk to it about matters of life, romance, and other topics you feel comfortable discussing with your friends and family.
Is it free? Yes and no. Chatting with Replika is always free, including customizing your avatar and much more. However, a paid membership will be your best bet if you want to unlock other features, including voice calls, switching avatars, learning coping skills, and switching between topics.
Replika pros
Replika cons

Can hold meaningful conversations.
Unlike humans, it's always available.
It has a video-calling option.
Remembers past conversations.

Features locked behind the paywall.
About NoxPlayer
NoxPlayer is a free Android emulator for playing mobile games on PC and Mac, supporting Android 5, 7, 8, and 9, and compatible with Intel, AMD, and Apple processors. You can run NoxPlayer perfectly on commonly-used operating systems like Windows 7, 8, 10, 11, and iOS. If you want to use the ChatGPT app on PC, NoxPlayer is your best choice.
How to Download and use ChatGPT app on PC with NoxPlayer
Download and install NoxPlayer on your PC
Complete Google sign-in to access the Play Store
Look for ChatGPT app in the search bar and install the game
Click the icon of ChatGPT app on your home screen to start the game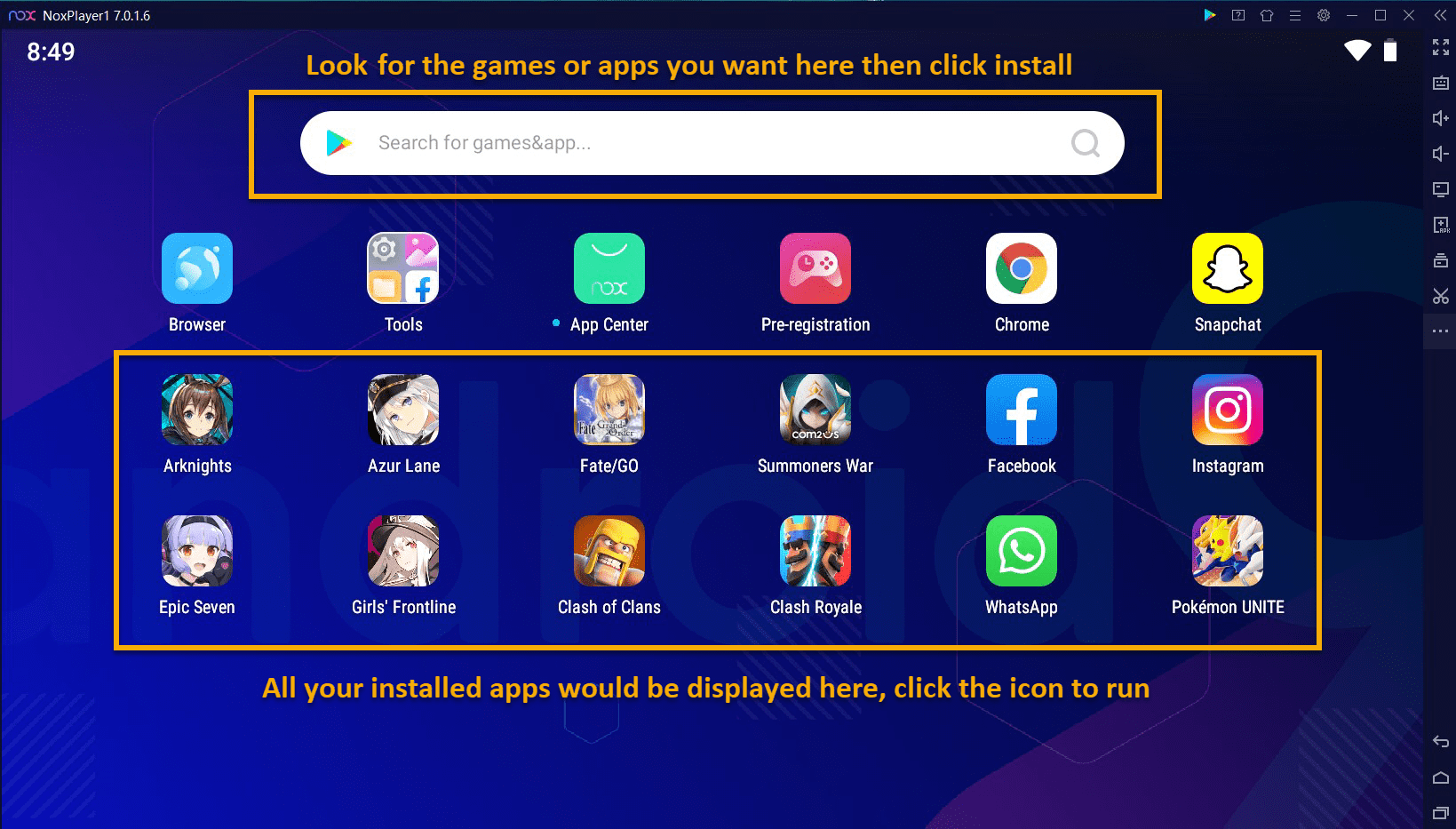 Visit our site: en.bignox.com