Honkai: Star Rail tier list for best characters
This tier list for playable characters in Honkai Star Rail is based on their performance in the simulated universe, forgotten hall, and around the world. It includes an expected tier list for unreleased characters, calculated from data from the beta server. Additionally, all version tier lists are provided for reference. For more details on a specific version's tier list, just click on the corresponding one.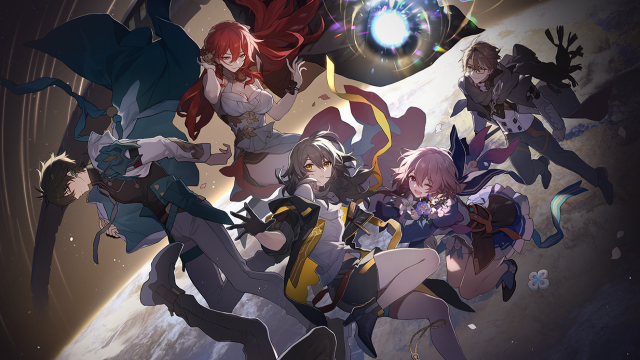 Honkai Star Rail All Characters 1.0 Tier List​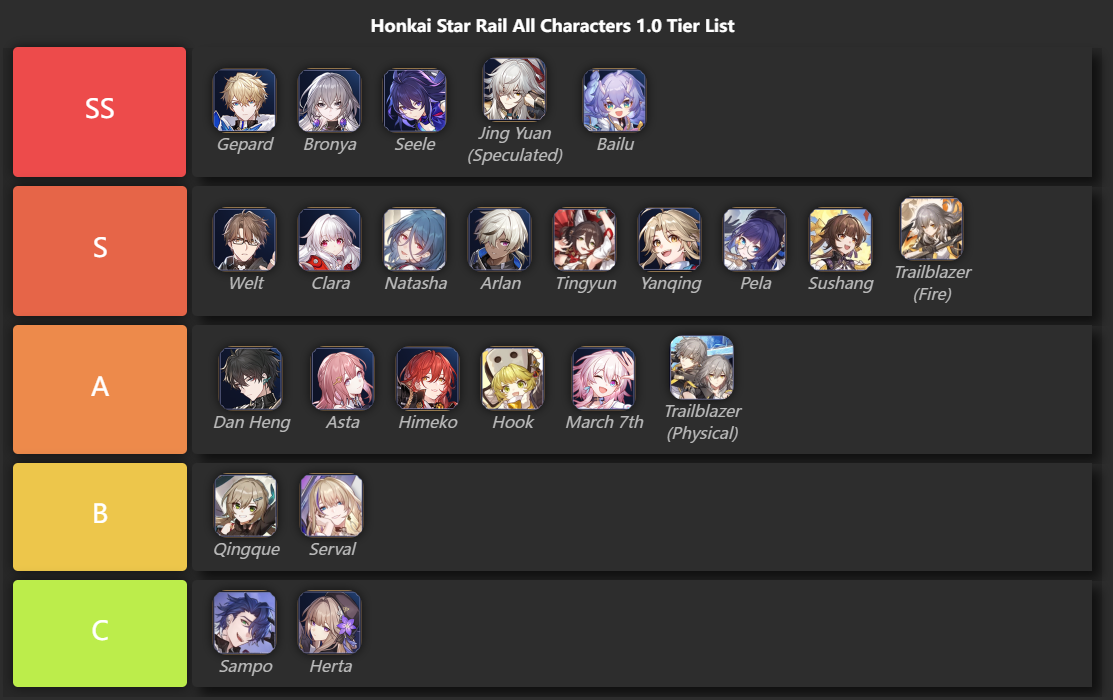 Tier 0:

Gepard
Gepard is the best shield in ver 1.0. His ult provides the highest-absorption shield to all allies which protects allies from instant kill.  The downside of Gepard is not having enough ER% to ensure coverage of his ult in the early game. Nevertheless, Gepard is still one of the best options in Simulated Universe and Forgotten Hall.

Bronya
Bronya's skill and ult are excellent which makes her the best support in ver 1.0. Her skill can assist a single ally by dispelling debuff, increasing DMG, and most important – providing extra move. The ult of Bronya increases the ATK of allies for 2 rounds. That's why Bronya can fit into any kind of battle, including Simulated Universe and Forgotten Hall.

Jing Yuan
Being another limited character in ver 1.0, Jing Yuan is more all-around than Seele. Jing Yuan is an Erudition Character that deals good AoE DMG. His talent can summon a Lightning-Lord which deals significant Single Target DMG. To conclude, Jing Yuan is the only character that works excellently in Multi-target battles and Single target battles.

Bailu
One of the two healers in 1.0. Bailu can bring back the first knocked-down ally in a battle. Her ult applies the buff "Invigoration" to allies. The allies with "Invigoration" restore HP when got hit. This makes Bailu can deal huge amount of healing and therefore the best Healer in 1.0
Tier 1:

Welt
Welt is the only Imaginary character in 1.0. Welt is also the only character who can delay action and reduce the SPD of enemies in 1.0, therefore he can generate more turns for the whole team. His skill is a great imaginary-weak shield breaker. The above features make Welt quite all-rounded in both Simulated Universe and Forgotten Hall.

Clara
Clara is a counter-attack character which makes her work excellent in Simulated Universe. She can deal with excellent DMG when she taunts all the enemies. The downside is the cover of the buff by her ult. Pairing with March 7th can increase her taunting coverage and therefore increase her overall DMG.

Natasha
Another healer in 1.0. Natasha's ult has a low energy requirement, which makes her good group healing ability. After learning the trace "Soothe", her skill can dispel debuff from the ally. If you don't get Bailu, she is the only choice as a healer and fights with you in Forgotten Hall and Simulated Universe.

Arlan
Arlan is an excellent Lightning DMG dealer. The selling point is his skill doesn't consume skill points (but HP). In the early game stage, there are a lot of Lightning-weak enemies, which makes Arlan a good choice to join your team in the early game.

Tingyun
Tingyun is another best support in 1.0. Tingyun's skill increases the ATK of a single ally. Her ult restores energy and increases DMG for a single ally too. This makes Tingyun an excellent support when your Main DPS is powerful.

Yanqing
Yanqing is an Ice single-target DPS. He is a CRIT Buff built-in character which makes him deal with terrible DMG when using ult. However, the downside of Yanqing is his high energy requirement ult. This makes he can't be ranked in SS Tier.

Pela
The selling point of Pela in reducing the DEF of all enemies. This makes Pela work well in the AoE team. But her ult requires quite a lot of energy, so the uptime of her DEF debuff on enemies is a problem. Pela can also remove the buff from enemies, so Pela's overall performance in Simulated Universe and Forgotten Hall is good.

Sushang
Sushang is a terrible Physical DPS, especially when she gets E1. Her DMG can compete with 5 stars character. Sushang becomes stronger when weakness breaks. The only downside is her ult requires high energy.

Trailblazer(Fire)
Excellent shield with tanking abilities character.  Trailblazer (Fire) can use the skill to taunt all enemies and reduce the DMG taken. Trailblazer (Fire)'s normal attack can be enhanced to deal with BLAST DMG, which makes Trailblazer (Fire) a good fire-weakness-breaking character. All of Trailblazer (Fire)'s actions provide a shield to all allies to enhance Survivability.
Tier 2

Dan Heng
Dan Heng is the only Wind DPS in ver 1.0. His DMG is moderate and he needs SPD to decrease debuff on enemies to maximize his DMG which makes his team is very narrow.
Asta
Asta's passive can increase the ATK of all allies depending on how many enemies she hit. However, most of the time her buff can only last for one round therefore she needs to consume one skill point every turn to keep the buff up. Her ult can increase the SPD of the whole team which makes her good in the SPD team.

Himeko
Himeko is a good Fire weakness breaker. Her passive allows her to deal with extra AoE DMG when there are weakness breaks. But the DMG of Himeko is not high which makes her less competitive with other AoE DPS.

Hook
Hook is a Fire DoT DPS. Hook can deal with both good DMG in single-target or multi-target battles. If you don't have Himeko, you can consider her as the Fire DPS in your deck.

March 7th
March 7th can provide a single-target shield to ally continuously. The character shield will have a higher chance to be attacked. This mechanism makes March 7th very suitable to pair up with Clara. March 7th is also a good choice in the early Simulate Universe. Her ult can sometimes provide control on enemies to limit their actions.

Trailblazer(Physical)
If you don't have Sushang, Trailblazer (Physical) is your only choice to be Physical DPS in your team. You will need it in some of the levels in Forgotten Hall.
Tier 3

Qingque
The only Quantum DPS is other than Seele in ver 1.0. Qingque's DMG is unstable due to her RNG mechanism, but still usable when you meet Quantum's weakness enemies. If you are lucky, Qingque will have insane DMG.

Serval
Serval is a Lightning AoE and Dot DPS. You can use her if you don't have Jing Yuan or Arlan. You will need her if you don't have other Lightning DPS in Forgotten Hall.
How to Download and Play Honkai: Star Rail on PC with NoxPlayer
Download and install NoxPlayer on your PC
Complete Google sign-in to access the Play Store
Look for Honkai: Star Rail in the search bar and install the game
Click the icon of Honkai: Star Rail on your home screen to start the game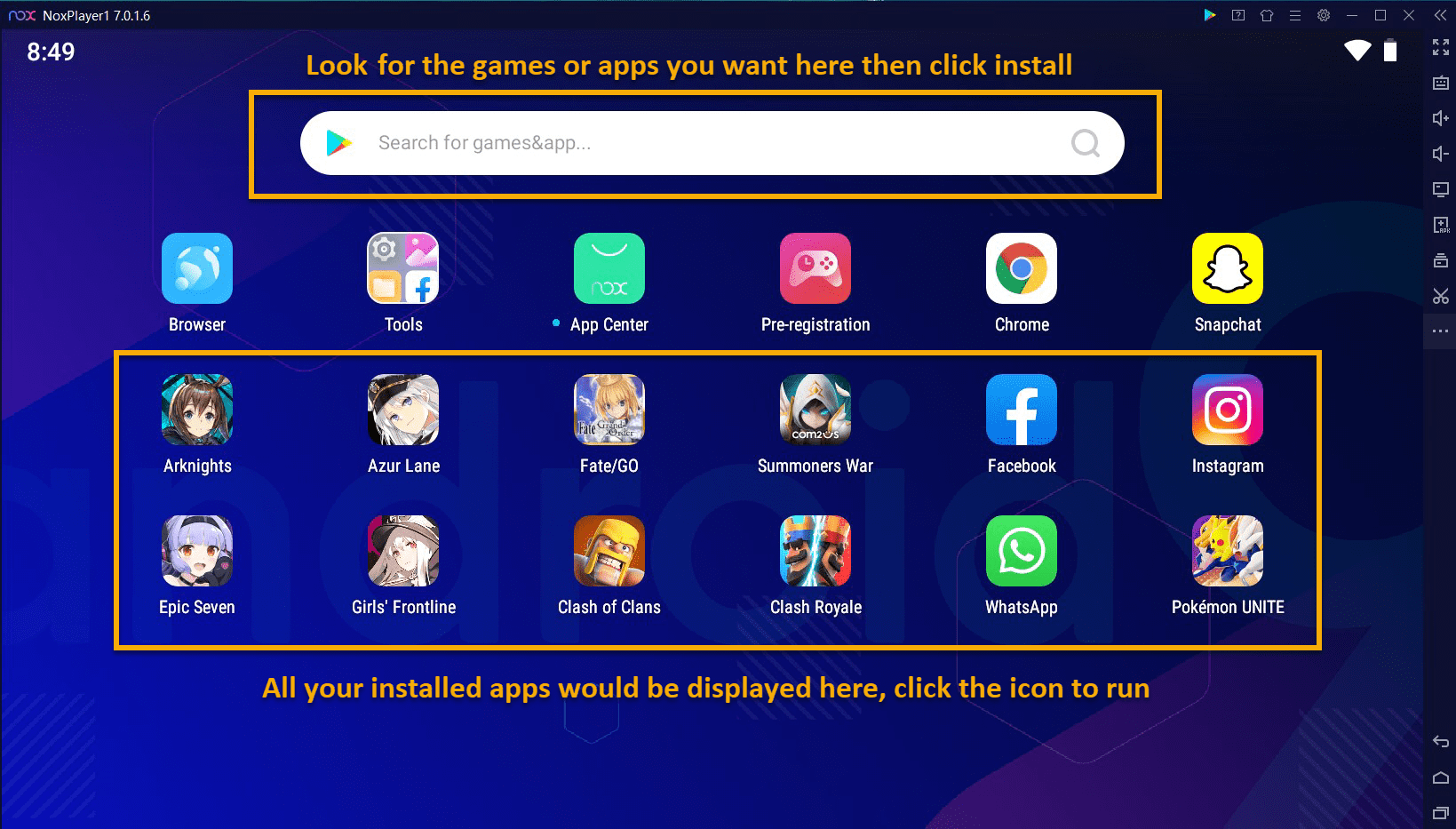 Visit our site: en.bignox.com