How To Play Arknights on PC with NoxPlayer
After closed Beta Test and announcements, Arknights finally comes into the world with luxurious voice actors, splendid character illustrations, magnificent background music, and more…
Arknights is a mobile tower-defense RPG game where players would role-play as a doctor. In the world of the game, there are infectors, who had a 100% mortality rate, would spread diseases when they are dead. As a result, a lot of countries don't welcome them and decide to perish their existence. Although your company aims to take care of the infectors, it also secretly holds a pirate military force to deal with conflicts. Command your forces and uncover the secret of this world.
This time Arknight has an exclusive cooperation with NoxPlayer and try to bring the best gaming experience to our users! Let's take a look!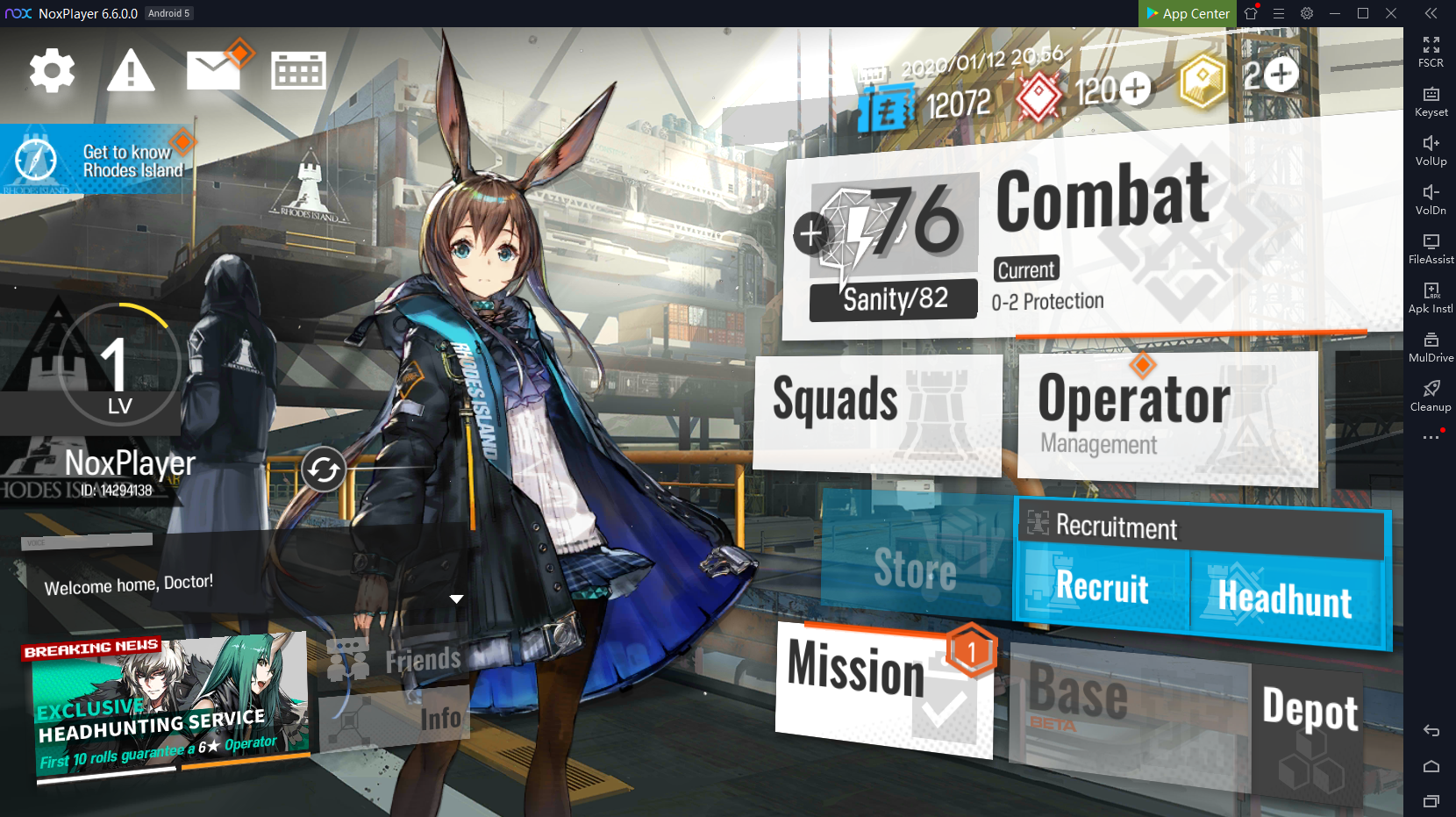 Useful Tips for The Beginners of Arknights
1. Operation Room
Through the Operation Room, you can enter training stages or choose to carry on with the main campaign.
2. Operator
This is the Operator Management page. You can manage and train your Operators here.
3. Squads
This is the Squad page. You can create squads and select Operation skills here.
4. Recruit/Headhunt
You can recruit some powerful Operators to enhance your team. Also, you can consume Orundum to headhunt random powerful Operators. Remember, Orundum is a valuable resource, do not waste it.
5. Mission
You can also claim outside missions to gain extra Exp. and other resources.
6. Base
This is the Warehouse, where you can review the items you have obtained.
Brief Introduction of the Class of Operators
Operators are divided into eight classes, each performing specific functions in battle. Some operators excel at blocking enemy movement, some snipe from a distance, and some heal their allies. It is thanks to the enthusiasm of our operators that Rhodes Island has been able to succeed in this harsh, Catastrophe-stricken world.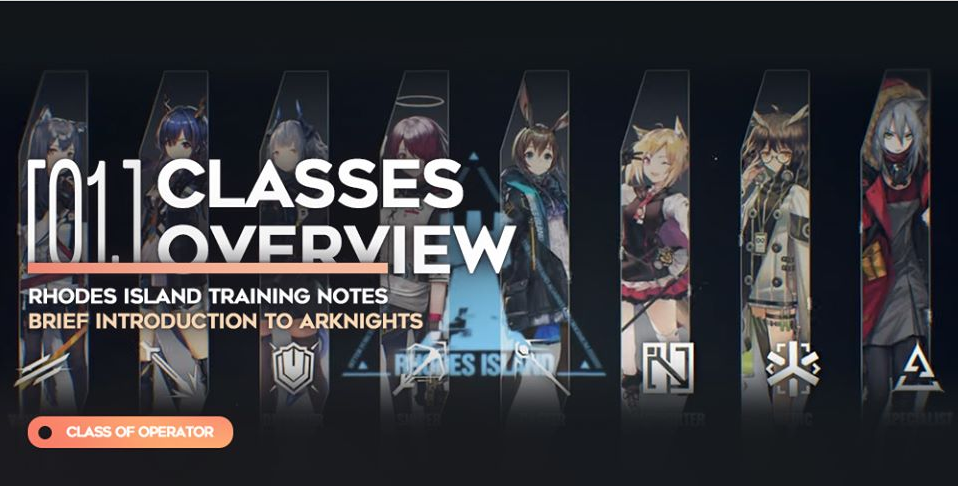 1. Vanguard
Vanguard Operators help with battlefield deployment. They are usually the first operators onto the battlefield. They normally have a lower deployment cost than operators of other classes and have skills or abilities that add more Deployment Points.

2. Guard
Guards are responsible for the melee physical damage output of the team. Most of them have a good balance of physical damage and survivability, making them effective for a variety of combat situations. They can stand on the front lines to protect Vanguard Operators from the attack against medium-sized enemies, or team up with other Guard Operators to form coordinated kill zones.

3. Defender
Defender Operators form the solid front of any defensive operation. They block the enemy's advance and protect the operators behind them. Generally speaking, Defender Operators can block three enemies at a time.

4. Sniper
Snipers are responsible for the long-range physical damage output of the team. Their deployment cost is not especially high, making them a good choice for the lightly armored targets in the midgame. However, Snipers Operators have poor survivability and do not hold up under sustained enemy attack. Put them behind the melee fighters to keep them safe.

5. Caster
Casters are the Art users of the team and excel at dealing with heavily armored enemy units. Their deployment cost is quite high, but their use of Arts to penetrate enemy armor and deal damage to units that would otherwise be difficult to bring down makes them well worth the price. However, their attack speed is rather slow, and Sniper or Guard Operators should be deployed to deal with unarmored enemies.

6. Support
Support Operators provide various buffs or debuffs. Most of them have some abilities to output Art damage while also use special abilities to slow the enemy or strengthen our operators. Their variety of effects and abilities can manipulate the flow of battle in many helpful ways.

7. Medic
Medic Operators are healers who treat the wounds of damaged operators on the front lines. Medic Operators typically have no combat capabilities but are nonetheless indispensable. Medics normally have low defense, with triage as their primary concern, and so need the protection of other operators.

8. Specialist
Specialist Operators excel in the use of special weapons and tactics to control the battlefield. Some of them assassinate key enemy units on their own, while some make use of special battlefield terrain to kill the enemy.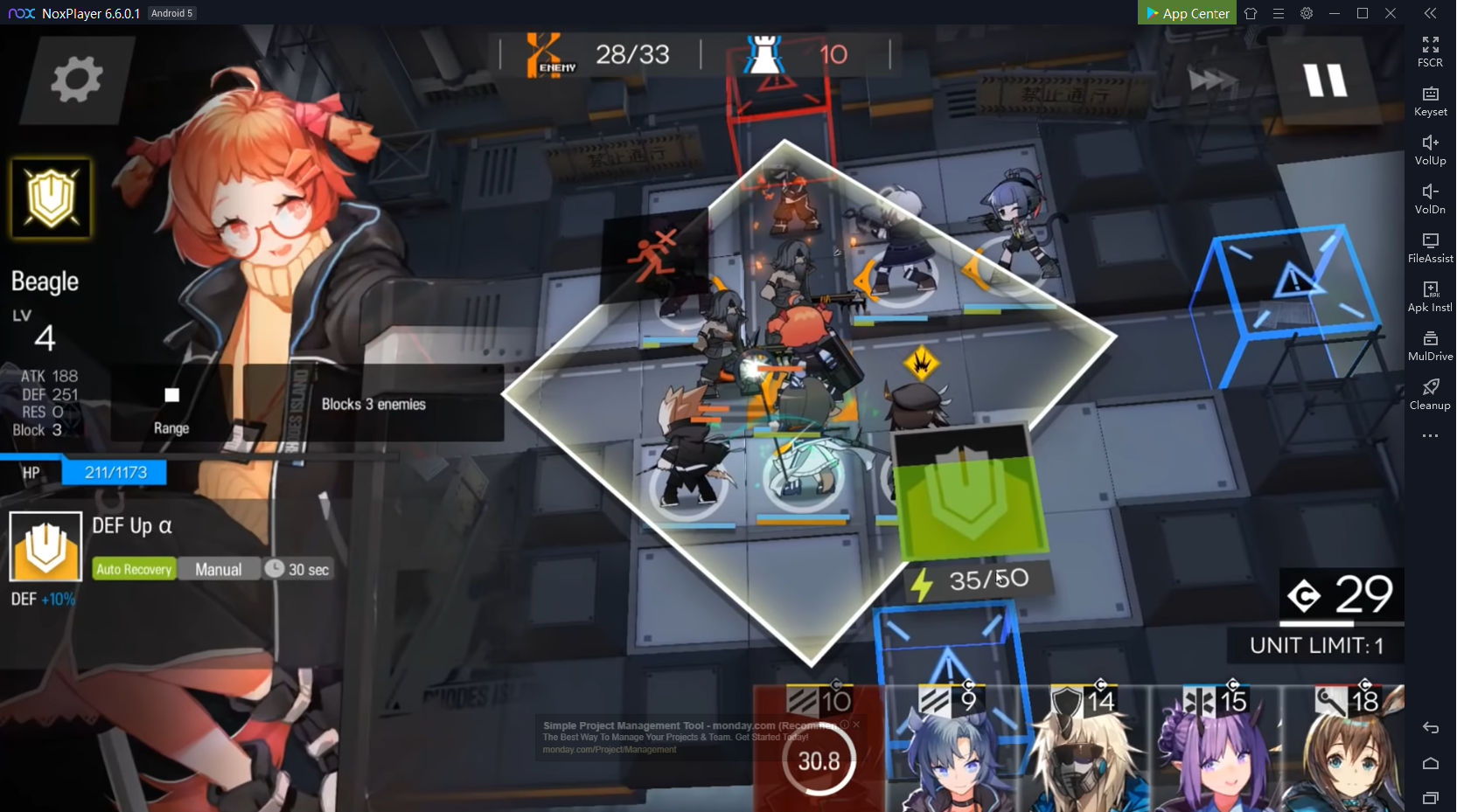 Why choose NoxPlayer to play Arknights on PC?
The Best Visual Experience with Larger Screen
Playing games on PC will definitely give you a better visual experience. In Arknights, many players are addicted to those operators who have unique brushwork and strong skills. This is also the main reason why the game becomes such popular in a short period. With a larger screen, you can have a clearer and more vivid view of your operators.
No worries about low battery
There is no doubt that you need to cost lots of time and energy to develop your operators and build a perfect team. Therefore, choosing to play Arknights on PC with NoxPlayer must be a good way to ease the burden of your mobile devices, and you don't need to worry about the battery life of your phone anymore.
To play it on your PC, just install the NoxPlayer Android emulator on your computer, sign in to your Google account, then search and install Arknight from the built-in Google Play Store or the App Center.
If Arknight is not released in your region, you can also download the apk file from Uptodown, and just drag and drop the file in NoxPlayer; it will be installed automatically. Or use a special version of NoxPlayer, which includes the Uptodown app. From there you can download and install any apk file just with a few clicks and then you can enjoy!