Run Android Apps, Games on Windows 11 – A Complete Guide
Keep reading to learn 
What's new in Windows 11
How to run Android apps on Windows 11
Steps to download and install the latest version of NoxPlayer
What you could get from the latest version of NoxPlayer
Key features of NoxPlayer
1. What's new in Windows 11?
Windows 11 kicked off its wide rollout last week, with Microsoft launching its new operating system and starting the rollout to eligible devices on Oct. 5. The same methods you use to install Windows 10 can also be used to install Windows 11.
Check out the noteworthy features added in Windows 11
The security and privacy features in Windows 11 are similar to Windows 10.
Easier access to new services, and services you already use.
You can customize the desktop experience now.
Use your same apps, improved.
2. Running Android apps on Windows 11?
However, what gamers are very interested in is the integration that allows running Android applications on Win 11 that Microsoft has advertised before, which has not actually appeared in this official release. 
At the launch of Windows 11 in June, Microsoft advertised that the Microsoft Store would work with Amazon to provide Android applications that run directly on Windows 11. But up until now, there hasn't been an appearance of this feature.
Thus for gamers who love to play mobile games on PC, Using Android emulators (NoxPlayer, for instance) is still a great choice. NoxPlayer is a reputable emulator that many gamers know and have been in the international market for more than 6 years. 
Check out more about NoxPlayer and download it here: en.bignox.com
3. Download and install the latest version of NoxPlayer
To play the game on PC you'll need a more stable and compatible emulator that supports higher graphics and heavier games, NoxPlayer would be your perfect choice! NoxPlayer is the first emulator to release the Android 9 beta system, which supports games like Genshin Impact and The Rising of the Shield Hero that are only available on Android 8 or higher.
Step 1: Download the installation pack of NoxPlayer here directly.

Step 2: Or you could visit NoxPlayer's homepage. Click the Download Now Version 7.0.1.6 button and wait for the download.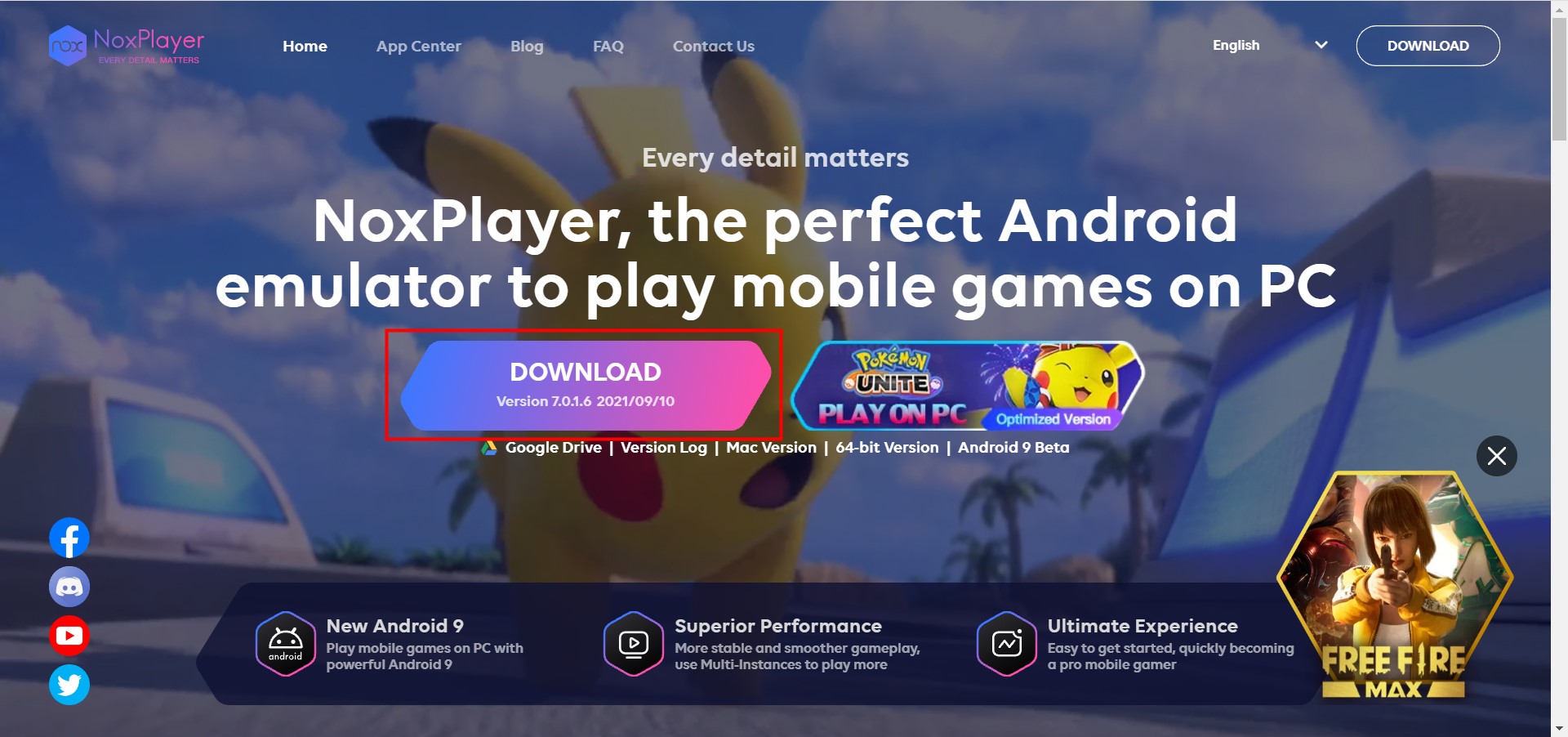 Step 3: Click on the downloaded file.
Step 4: Select  Browse if you want to change the installation path. Then click Install.
Step 5: Wait for NoxPlayer to install on your device. Once done, press  Start to launch the emulator.
4. NoxPlayer 7.0.1.6: a new generation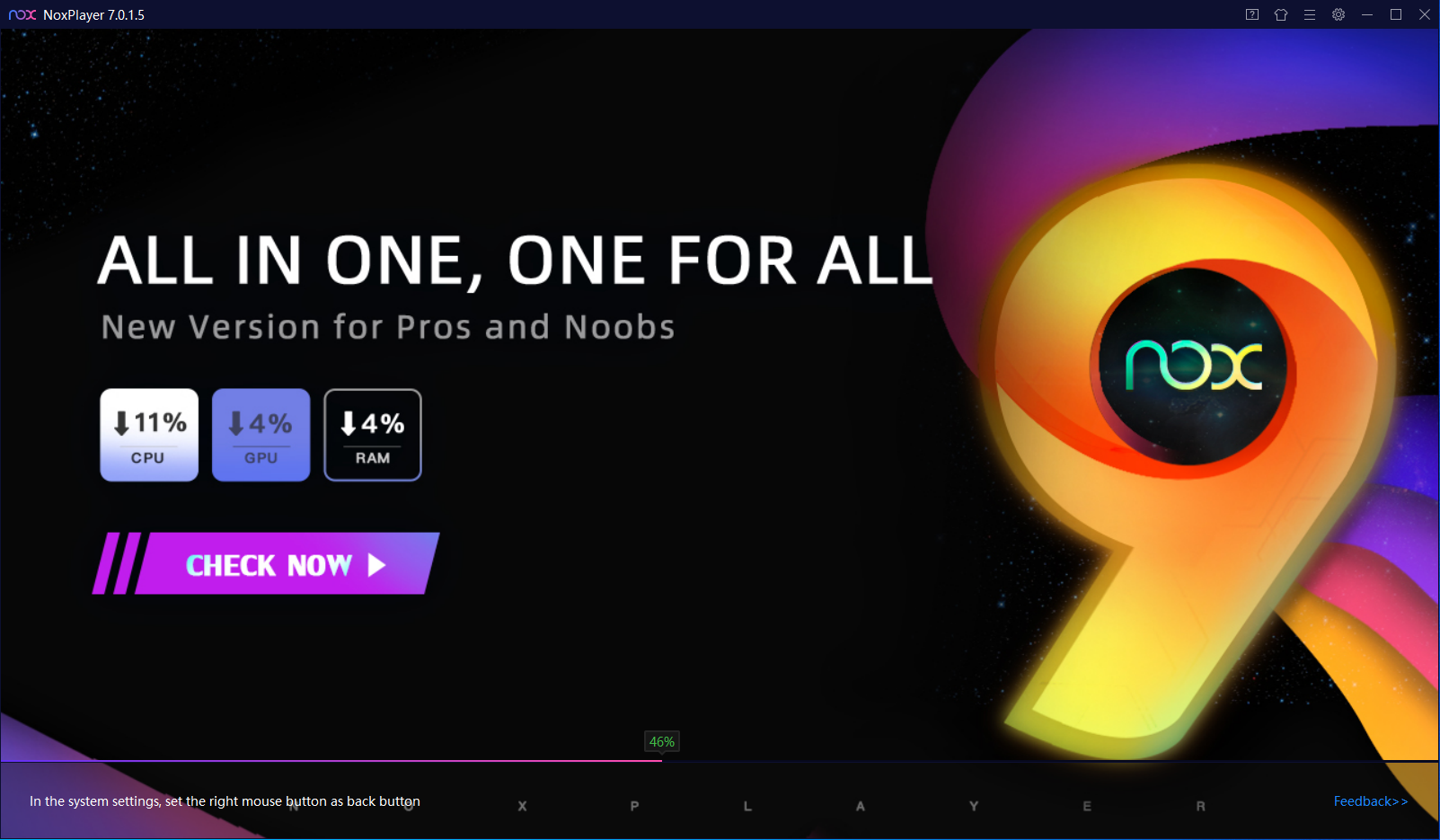 For NoxPlayer at versions of 7.0.1.5 or higher: Android 5/7/9, 32/64 bit are all in one place – you can play mobile games of any Android or bit version by simply adding a new emulator in Multi-Drive, user-friendly for both pro-gamers and noobs!
NoxPlayer is the ONLY emulator so far that includes Android 5/7/9 & 32/64 bit at the same time in ONE emulator installation pack.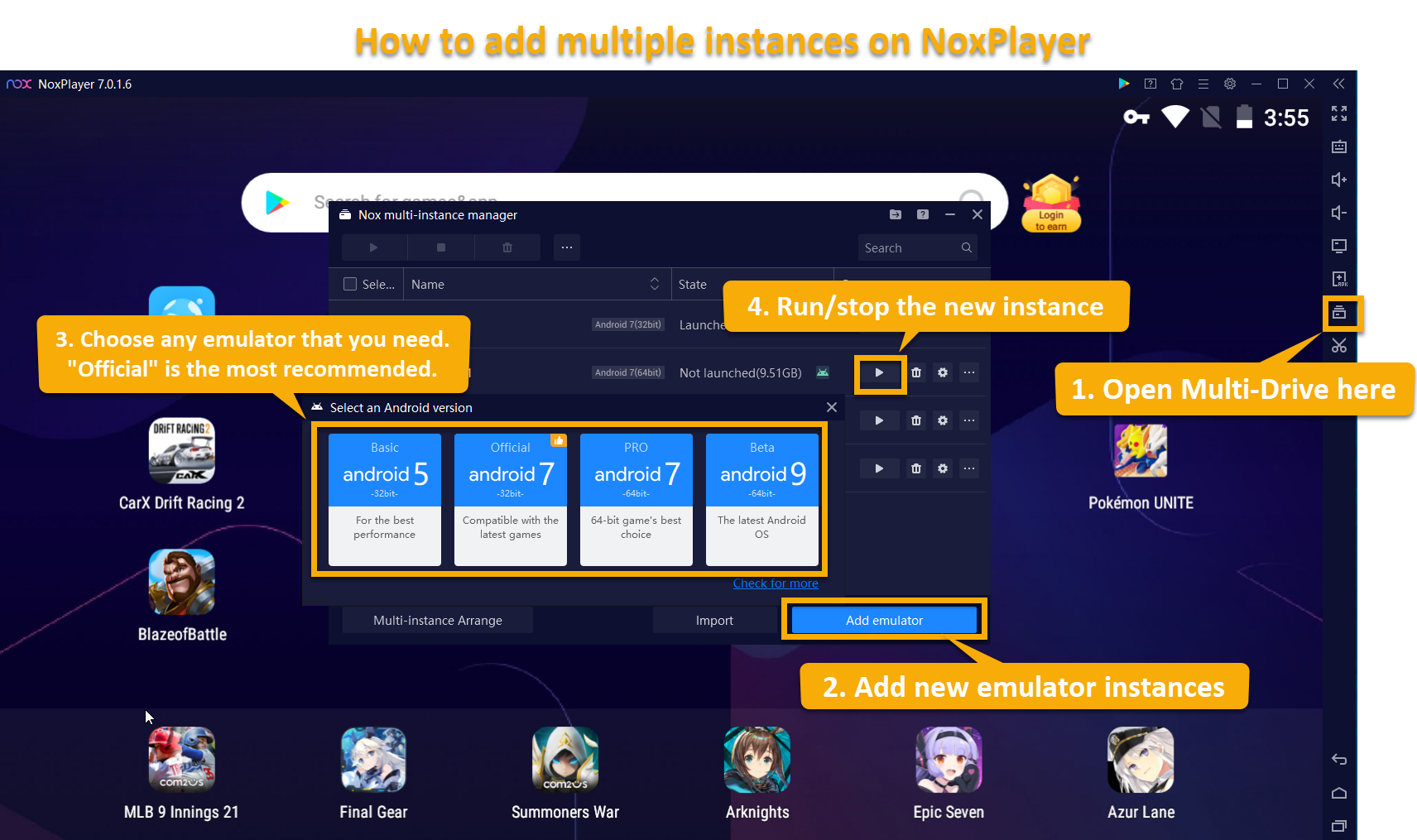 5. Noteworthy features of NoxPlayer
If you want to play Android games on PC or Mac, you'll need an emulator. NoxPlayer is one of the best Android emulators you can get. It is easy to set up and use and is compatible with a majority of mainstream games so you don't have to worry about performance. Using an Android emulator in 2021 is about more than just running games. That's where NoxPlayer has you covered. It has some cool features like in-built Google Play Store, multi-instances, and multiple Android version support. So here are the top 5 features of NoxPlayer that make it one of the most sorted Android emulators for PC and Mac.
1. In-Built Google Play Store
One of the essential features of Android emulators is the presence of a rich app store. While NoxPlayer has its own app collection, it also comes with a built-in Google Play Store (You could find it in the Tools folder). This means you can easily download and run Android games and apps on your Windows PC or Mac.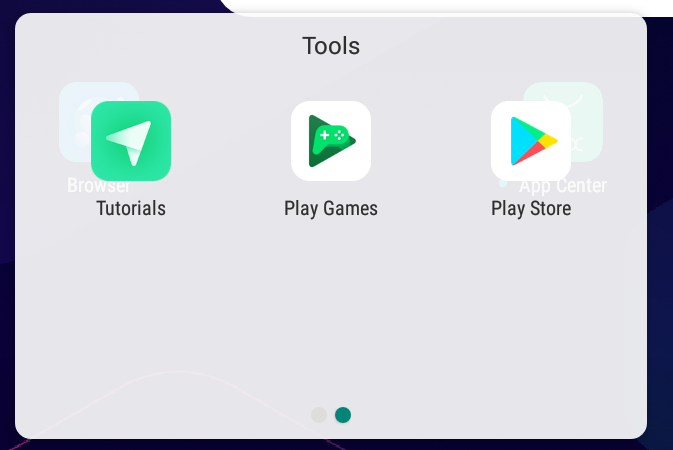 If you don't want to use the Play Store option, simply search for a game in the search bar on NoxPlayer and click on it to start playing.
2. Custom Key-Mapping
This is one of the top reasons to use an Android emulator and NoxPlayer nails it. For the uninitiated, key mapping assigns keys from your keyboard to replace the game's original controls. For games like Free Fire MAX, you can map the arrow keys or any other keys (WASD, IJKL, etc) to replace the on-screen movement controls.
If you're a seasoned player, you can custom map the keys as you want, and if you're new or just taking it easy, it offers you recommended keysets so you can dive right into the game.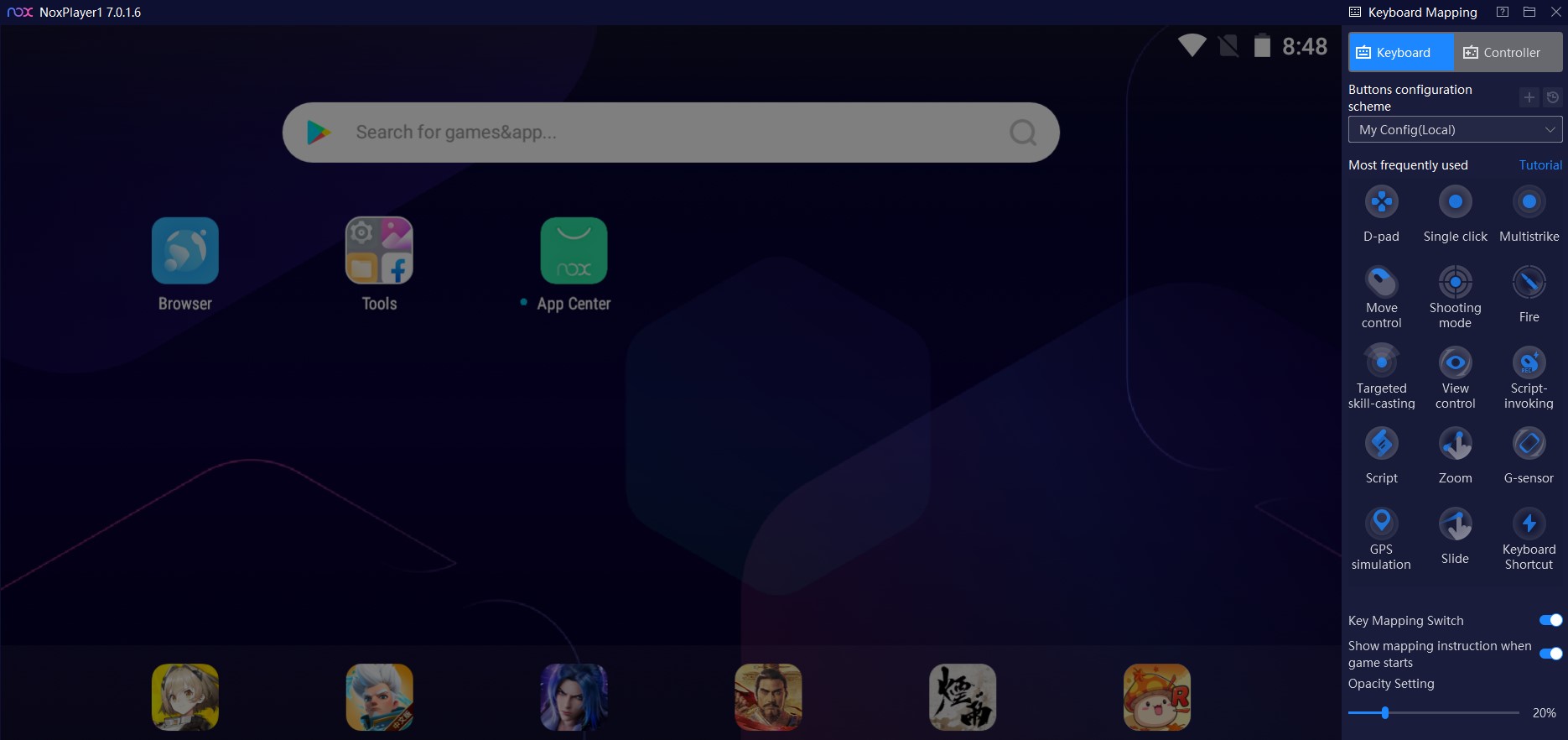 3. Multiple Android Version Support
Some games didn't make it to the newer Android versions and some don't run on the older ones. NoxPlayer supports multiple Android versions for different game requirements. You can run Android 7 or Android 5 depending on what you want to run. You can play mobile games of any Android or bit version by simply adding a new emulator in Multi-Drive, user-friendly for both pro-gamers and noobs! NoxPlayer is the ONLY emulator so far that includes Android 5/7/9 & 32/64 bit at the same time in ONE emulator installation pack.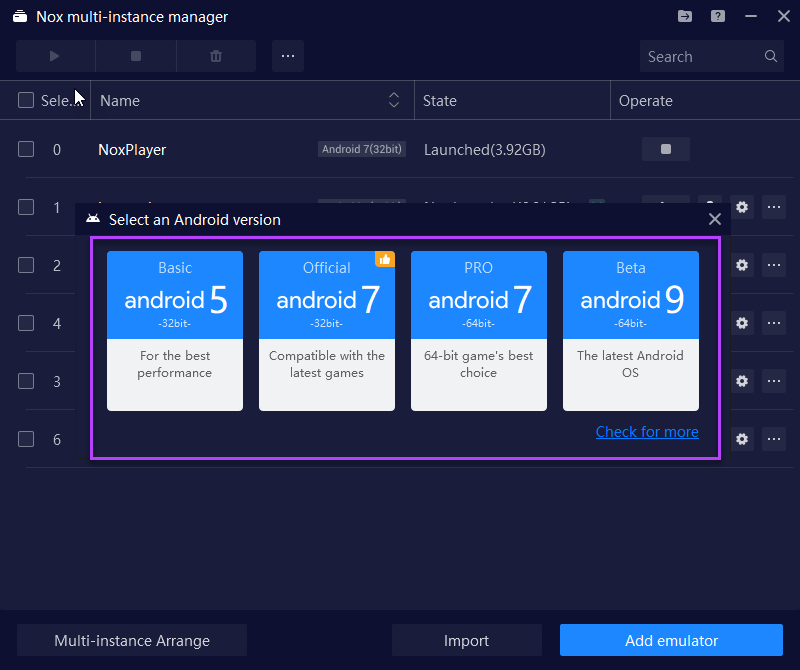 4. Run Multiple Accounts Using Multi-Instances
Multi-Instances on NoxPlayer is one of the handiest features on the emulators. Using this feature, you can run two or more emulations at the same time. Combine this with the multiple Android version support and you can basically play a timeless classic on Android 5 while running Instagram on Android 7 side by side.
5. Superb App And Game Compatibility
Lastly, NoxPlayer for Windows and Mac has excellent app and game compatibility. Mainstream games like Among Us, Arknights, Cookie Run, PubG, Grand Cross, and others are compatible with this emulator. Better compatibility means a smoother experience, more games and apps to play, and better performance on PCs with lower specifications.
Why NoxPlayer?
NoxPlayer, the perfect and fully-optimized Android emulator to play mobile games on PC, has been providing users with the best gaming experience for 6 years. Compared with traditional emulators, NoxPlayer is the only one so far to support all versions of Android engines – 5.1, 7.1, and 9 (both 32 and 64 bit), while compatible with both X86 / AMD and Mac OS. NoxPlayer allows running high-performance and high-graphic mobile games on PC with extremely high compatibility and stability, and extreme frame rate.
On NoxPlayer, users can run mobile games at any Android version (Android5/7/9). Gaming with a PC screen and keyboard, users could get both a better visual and a greater keyboard-control experience. By creating multiple instances, users can log in to multiple accounts, and perform "multi-tasking" – to run not only games, but also social apps, or in some circumstances, both, simultaneously.
NoxPlayer provides the ultimate gaming experience on PC. We believe every detail matters. On NoxPlayer, gamers could experience a clearer view, an easier way to control characters, a smoother gaming experience, higher compatibility and performance, and… these won't leave us satisfied. For you, we've added features like macro, script, video recording, live mode, animated theme, and will add more in the future.