How to set up Keyboard control in NoxPlayer to play Rules of Survival on PC
The rise of Battle Royale games like Player Unknown's Battlegrounds has extended to mobile games such as NetEase Game's three clones called Rules of Survival, Knives Out and Survivor Royale. These mobile battle royale games share a lot of the characteristics of PUBG such as a huge island map, various vehicles and weapons and the ultimate goal of being the last one standing.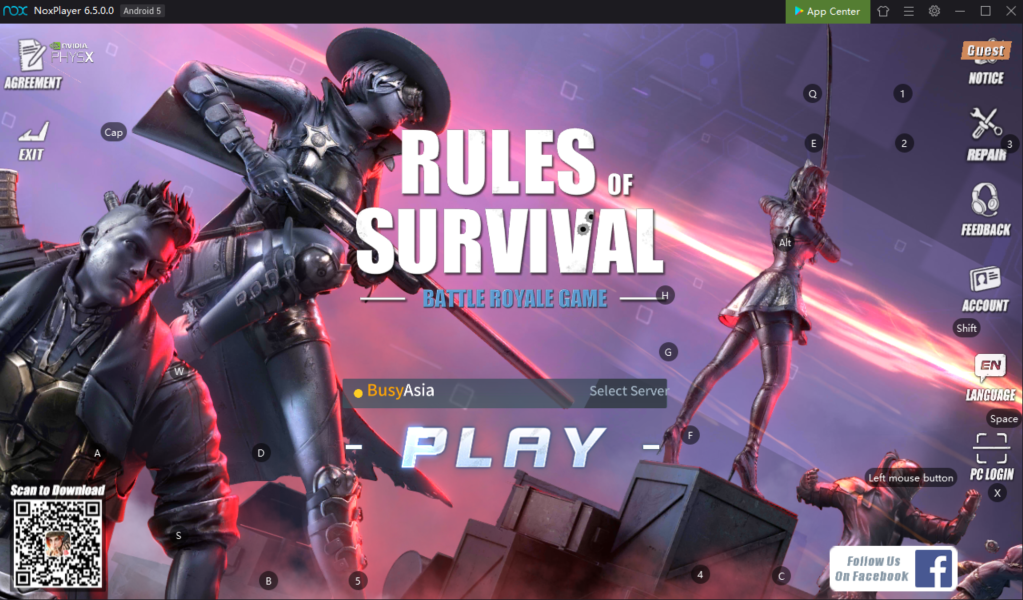 NoxPlayer exclusively support all mobile battle royale games. You could play them on PC using keyboard and mouse just as a PC game for free! In this post we will guide you through the basics of playing Rules of Survival on PC using Keyboard.
These games could be played in NoxPlayer 6.0.0.0 and above versions. If you don't have the latest version, go to our website to download and install it first.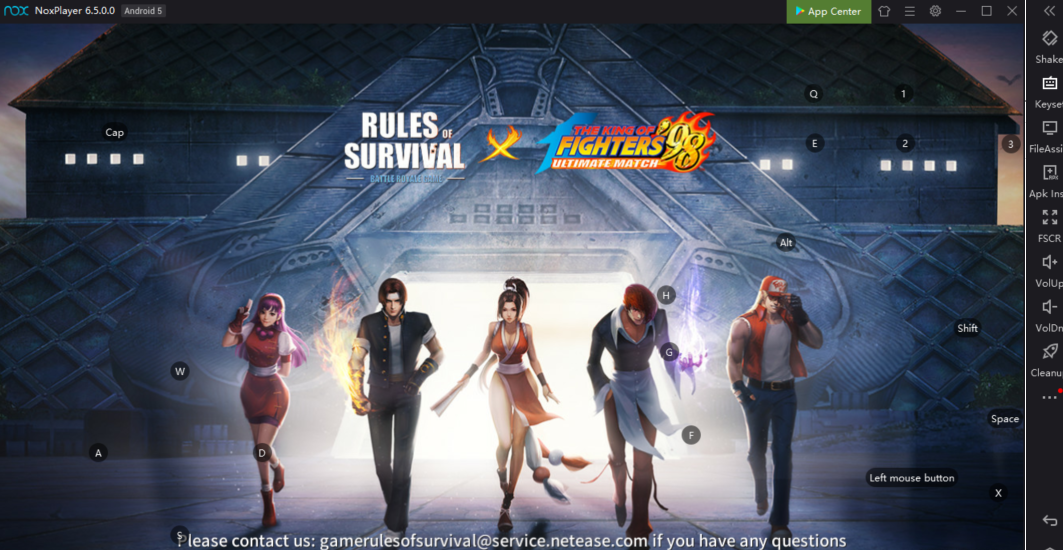 Rules of Survival is a bit heavy. To have the smoothest gaming experience, please make sure to allocate 3-4G memory to Nox and make sure you still have another 3-4G left for your computer.
So first thing after download and install NoxPlayer, go to System Settings >> Advanced and make sure you have:
Graphics rendering mode: OpenGL/OpenGL+/DirectX are all fine, OpenGL+ is more recommaded.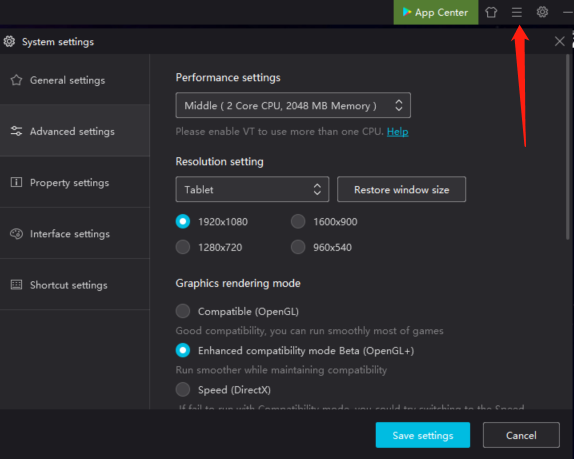 Then open Google Play and download Rules of Survival. Go through the below settings one by one to enjoy playing it as a PC game:
Go to game Settings >> Basics, turn Music to low (this could make gameplay smoother), Tick Excellent for Graphics. Lower options may result in blurred vision over other competitors in a distance. If you have a very powerful PC, don't hesitate to go with Ultra!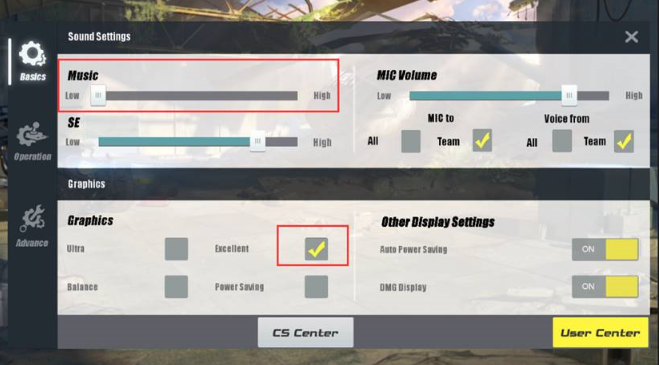 2. Go to game Settings >> Operation, change Vehicle Control preference to Comfort Mode. This mode works better on Android emulator. As for the sensitivity settings on the left, you could set to your own preference.
3. Let's move to Advanced in Settings now. Turn off 3DTouch and choose the Advanced Mode.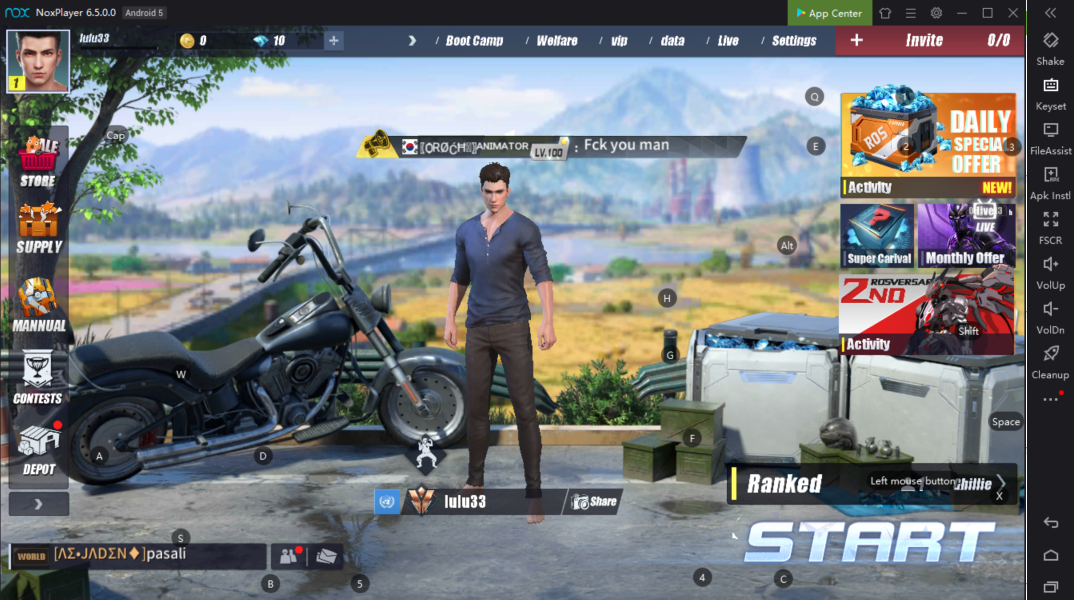 4. Enter the game and click Keyboard control on the right side tool bar, close it and click it again. Choose Rules of Survival from the drop-down menu then you will have the default keyboard controls ready to use! Make sure to config this before you start matching. (Note: the default setting is only available in NoxPlayer 5.2.1.0 and above versions).
5. Some tips on Keyboard control
Direction Pad (WASD)
Fire (Left click)
Backpack (B)
Jump (Space)
Pick up (Alt)
Change Weapon (1-2-3)
Map (CapsLock, press and hold to open the map and release to close it)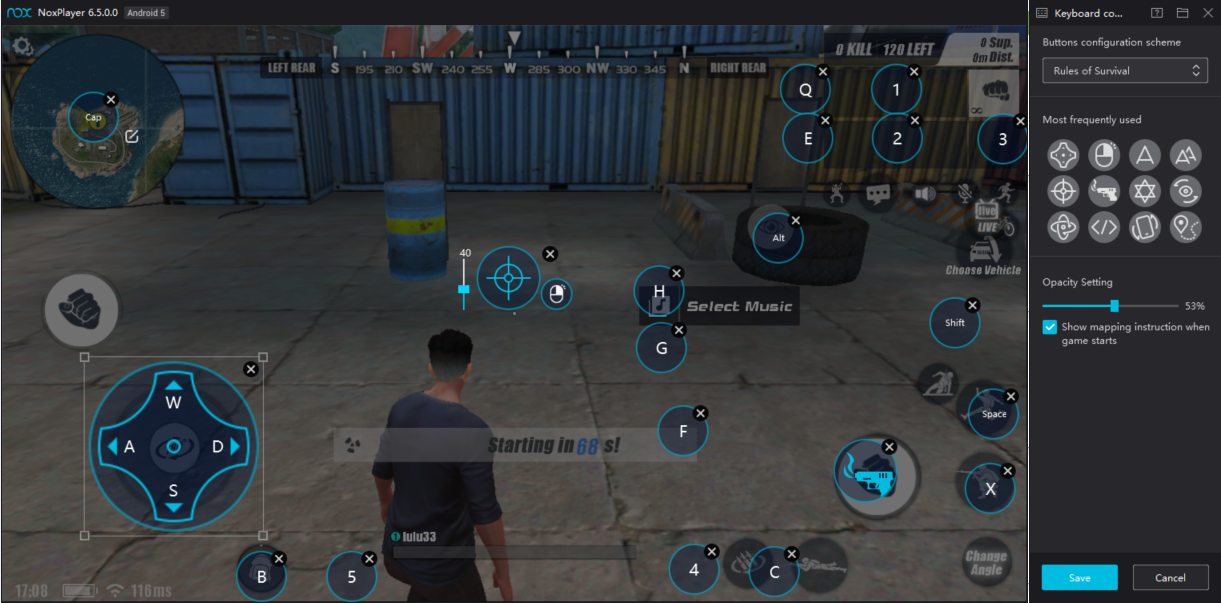 Familiarize yourself with these settings before you jump into the game. Of course, you could change the default key to your own preference. You could also change the transparency on the Keyboard control panel. Make sure to save your changes for them to take effect.
6. Now let's Match! Once enter the game, DO NOT right click your mouse. Click parachute and adjust your landing position using WASD. Once landed, right click then your view is locked. Your character could change view following the movement of your mouse, just as in PC games such as CrossFire.
Here's one of my gameplay screenshot!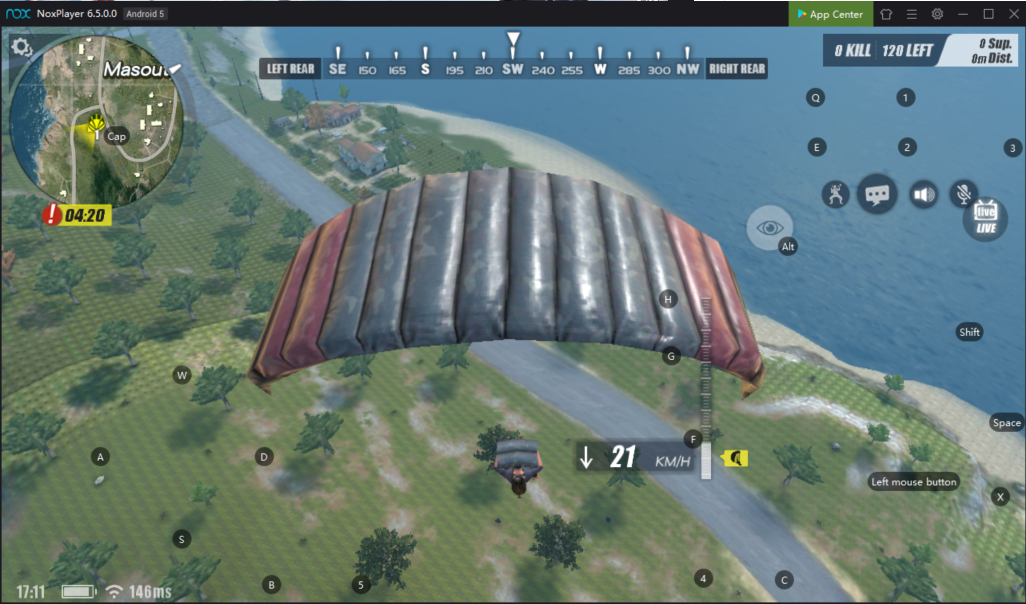 Note: though this game is less memory consuming as PC games, it still has some requriements on your computer specifications. If you experience laggy in this game and was popped the below notice, then you should consider adding more memory for your PC. Also, click Cross in the below notice, otherwise, the game graphics will be reset to balance and you won't be able to observe competitors from distance in this game.