Download and Play Disney Sorcerer's Arena on PC with NoxPlayer
Disney Sorcerer's Arena is the ultimate Turn-Based Role Playing Game(RPG) with Real-Time PvP. It based on the world of Disney and full of Disney characters. You can enter the bold and competitive world of the Sorcerer where every choice you make determines your legacy. Assemble your roster from scores of battle-ready Disney and Pixar legends, and test your powers in the action-packed PVP arena.
Game Features
Battle in real-time PvP
Disney Sorcerer's Arena features the real-time PvP battle with other players. Here, you are able to test your team's power by challenging other players.
Control strategic gameplay
In Disney Sorcerer's Arena, you will need to choose carefully with your sorcerers and the skills against different enemies. Also, do not forget to set your team properly with tanks and powerful sorcerers to raise your winning odds.
Collect hundreds of battle-ready Disney and Pixar Legends
As the name of the game indicates, Disney Sorcerer's Arena is based in the world of Disney. You will have the chance to collect hundreds of Disney sorcerers to perfect your team. Each Disney Sorcerer will have different abilities, please choose them wisely.
Unleash your strategy with authentic character abilities
As mentioned before, each sorcerer will have different types of abilities, such as Area of Effect (AoE), healing ability, and Dot Burst, etc. Remember, the quality combination of the team and skillsets is the key to winning.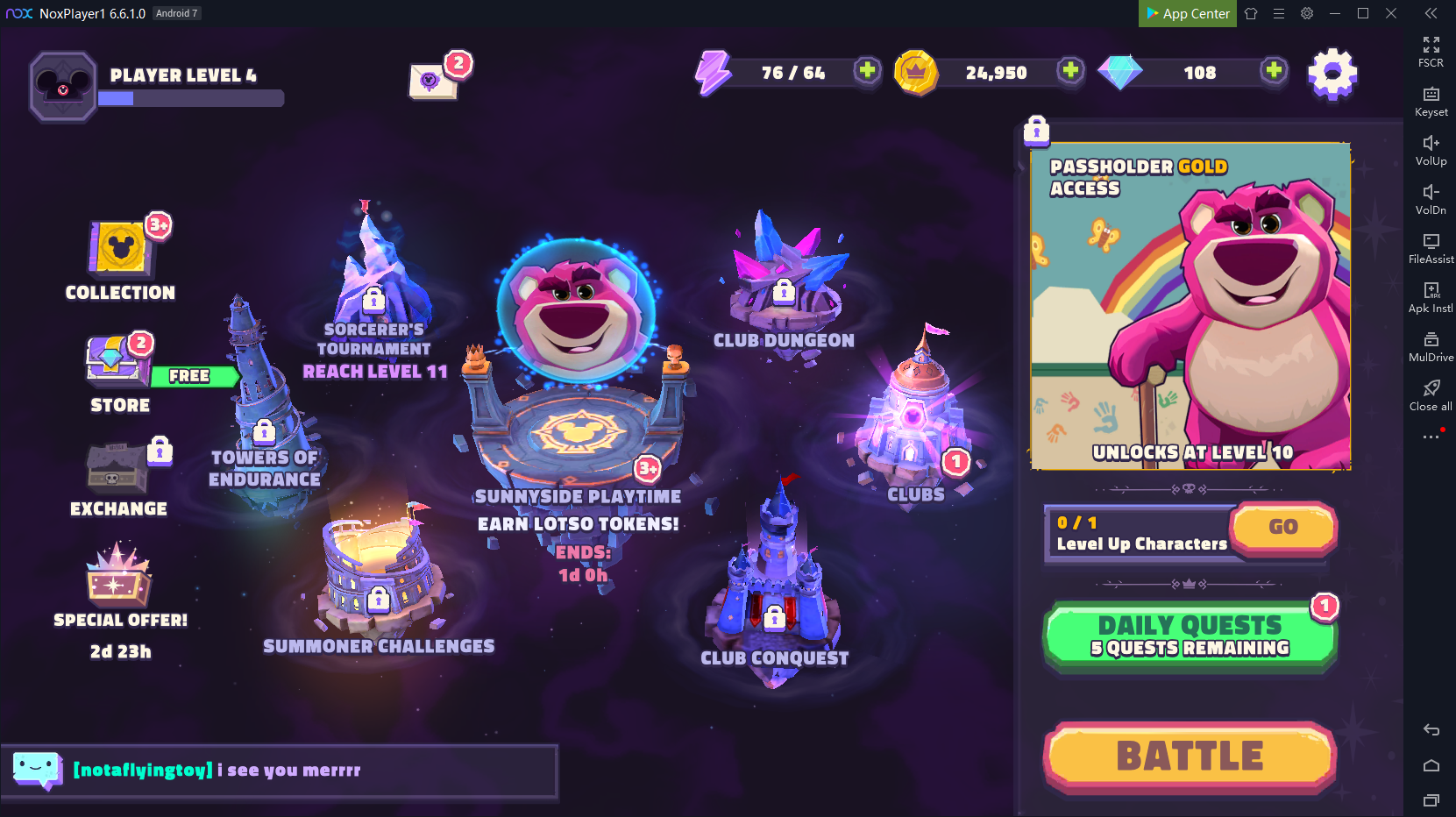 Why Choose NoxPlayer to Play Disney Sorcerer's Arena on PC
The Best Visual Experience with Larger Screen
Playing games on PC will definitely give you a better visual experience. In Disney Sorcerer's Arena, many players are addicted to the different Disney characters and the unique skillset. This is also the main reason why the game becomes such popular in a short period. With a larger screen, you can have a clearer and more vivid view of the battlefield and the enemies.
Smoother Control with Key Mapping and Mouse
Disney Sorcerer's Arena features many unique gameplays including the real-time PvP battle system. As the battle gets fierce, it is hard for you to control your characters with your mobile devices. Therefore, if you play Disney Sorcerer's Arena on PC with NoxPlayer, the touch screen will be replaced by the keyboard and mouse, which makes the control more flexible and better for your precise strike.
Setting key mapping is not difficult. Head over to the keyboard mapping setting on the right setting menu of NoxPlayer first. After that, you just need to drag the command icon from the display panel to the corresponding position and assign a key for it. If you still feel upset about the complicated key settings, now we have provided you with a detailed tutorial about keyboard mapping on NoxPlayer. You can check this article here: NoxPlayer keyboard control settings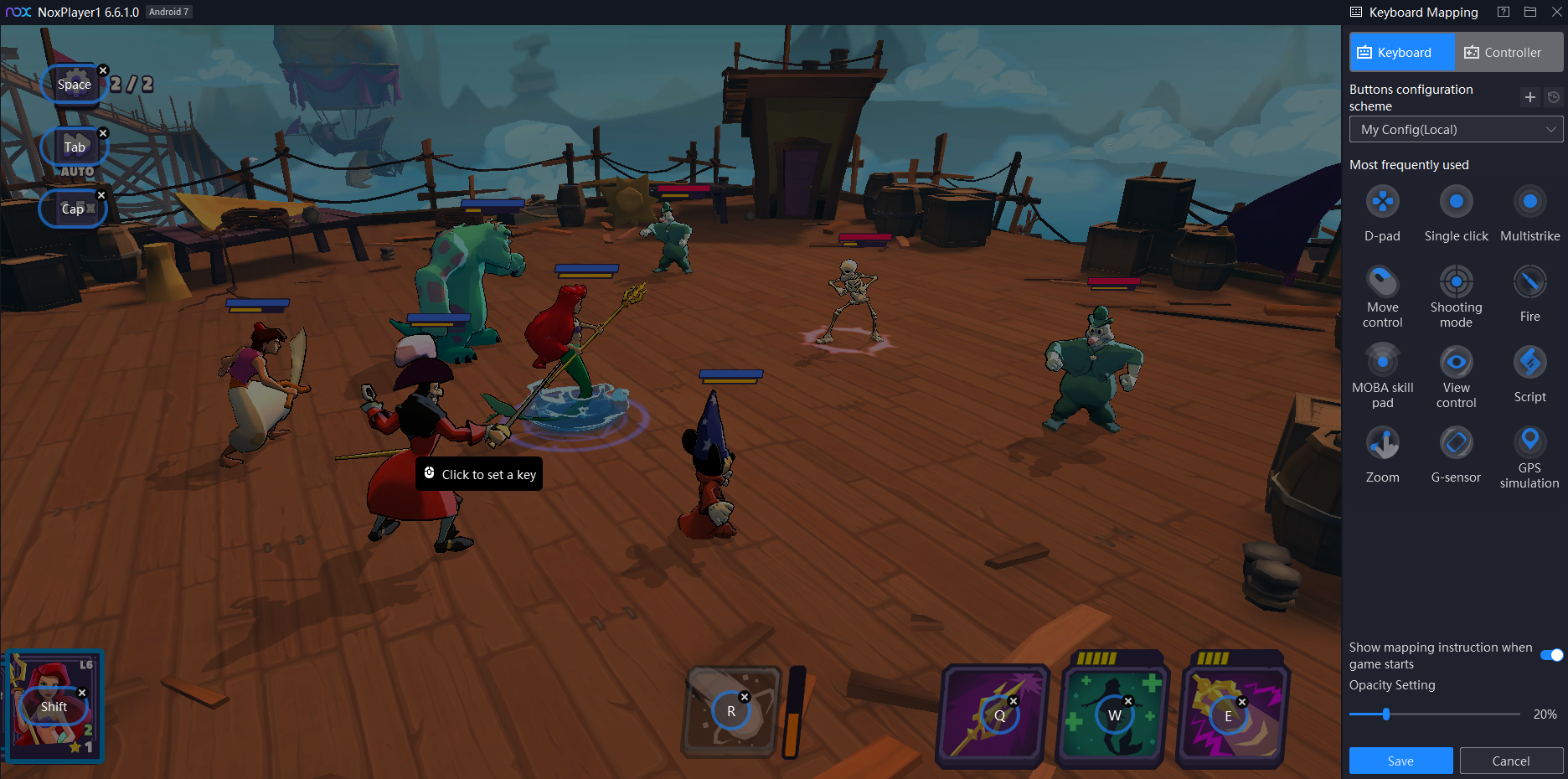 No worries about low battery
There is no doubt that you need to cost lots of time and energy to develop your characters and your team. Therefore, choosing to play Disney Sorcerer's Arena on PC with NoxPlayer must be a good way to ease the burden of your mobile devices, and you don't need to worry about the battery life of your phone anymore.
Download NoxPlayer at our official website: www.bignox.com
Search for Disney Sorcerer's Arena with the search bar or with the built-in App Center
Download Disney Sorcerer's Arena to your computer and start to play