Download and Play KartRider Rush+ on PC with NoxPlayer
The game KartRider Rush+ has finally come! The kart racing sensation enjoyed by over 300M players worldwide is back! You can race with your friends or just play it solo through a variety of gameplay modes. Besides, you can collect and upgrade iconic characters and karts from the KartRider universe. On top of all that, don't forget to climb the leaderboard ranks and become the ultimate racing legend!
Speed Race: Earn licenses to unlock more challenging race tracks as you progress and rely on pure drifting skills to reach the finish line
Arcade Mode: Choose from a selection of gameplay modes such as Item Race, Infini-Boost, or Lucci Runner that add an extra layer of fast-paced thrill to your races
Ranked Mode: From Bronze to Living Legend, climb up the Racing Tiers and earn respect among your peers
Story Mode: Join Dao and friends and help them stop the treacherous Pirate Captain Lodumani's evil deeds
Time Trial: Beat the clock and make your mark as the fastest racer
Kart racing has never looked so good! Style your Racer in the latest outfits and accessories and go BOLD with a selection of stylish and iconic Karts. Adorn your ride with trendy decals and pets that will earn you prestige on the tracks.
Join forces with players from around the world and complete quests together as a Club. Show off your latest kart through your own private customizable Home or cool off from a hard-earned match with fun, quick mini-games.
Race Tracks on Another Level
Accelerate to the finish line through over 45+ race tracks! Whether you're taking a tour through the bustling traffic in London Nights, or enduring the biting chill of the ice in Shark's Tomb, every track has its own distinctive traits that offer a different racing experience for players looking for a challenge.
Why Choose NoxPlayer to Play KartRider Rush+ on PC
The Best Visual Experience with Larger Screen
Playing games on PC will definitely give you a better visual experience. In KartRider Rush+, many players are addicted to those classic characters who are the main characters from the original KartRider series. This is also the main reason why the game becomes such popular in a short period. With a larger screen, you can have a clearer and more vivid view of the characters during the racing.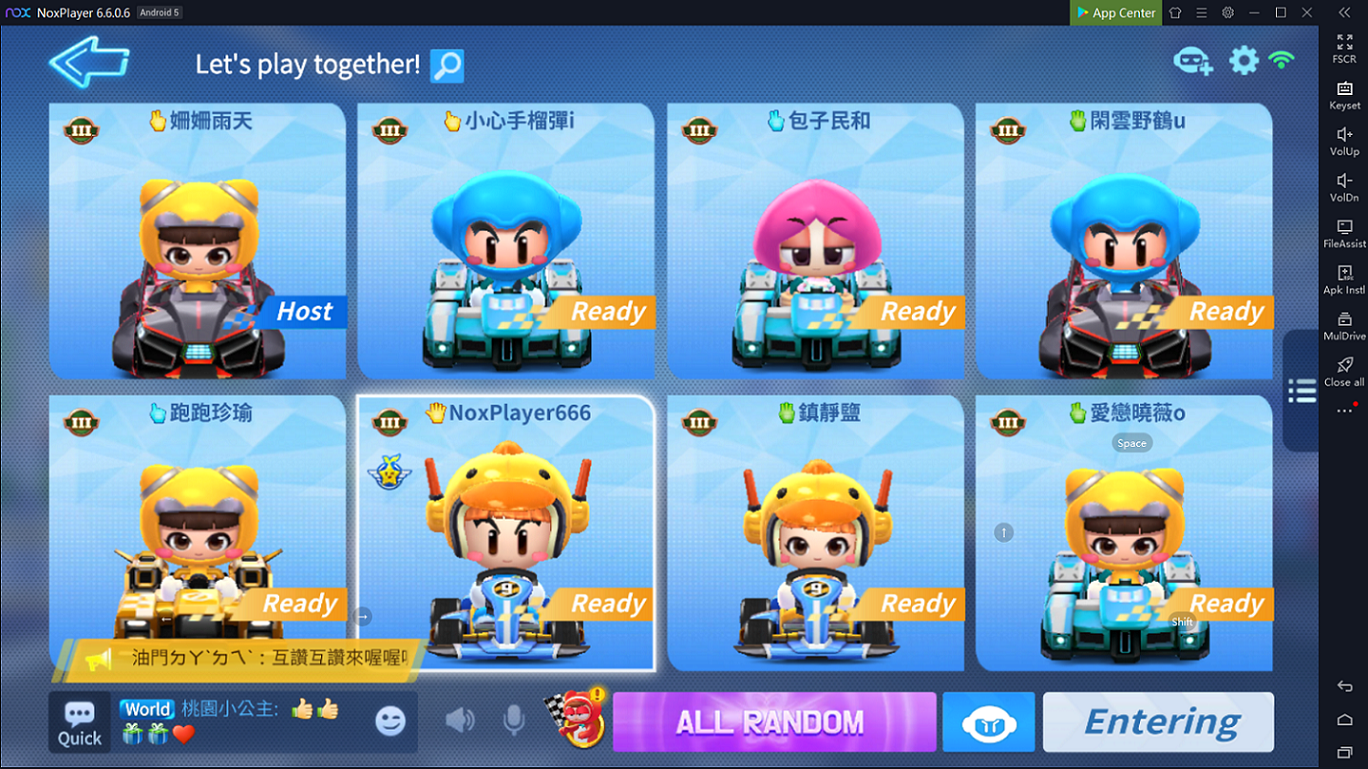 Smoother Control with Keyboard and Mouse
KartRider Rush+ features many unique gameplays including various game modes with different anime characters. As the racing gets fierce, it is hard for you to control your kart with your mobile devices and fingers. Therefore, if you play KartRider Rush+ on PC with NoxPlayer, the touch screen will be replaced by the keyboard and mouse, which makes the control more flexible and precise.
Setting key mapping is not difficult. Head over to the keyboard mapping setting on the right setting menu of NoxPlayer firstly. After that, you just need to drag the command icon from the display panel to the corresponding position and assign a key for it. If you still feel upset about the complicated key settings, now we have provided you with a detailed tutorial about keyboard mapping on NoxPlayer. You can check this article here: NoxPlayer keyboard control settings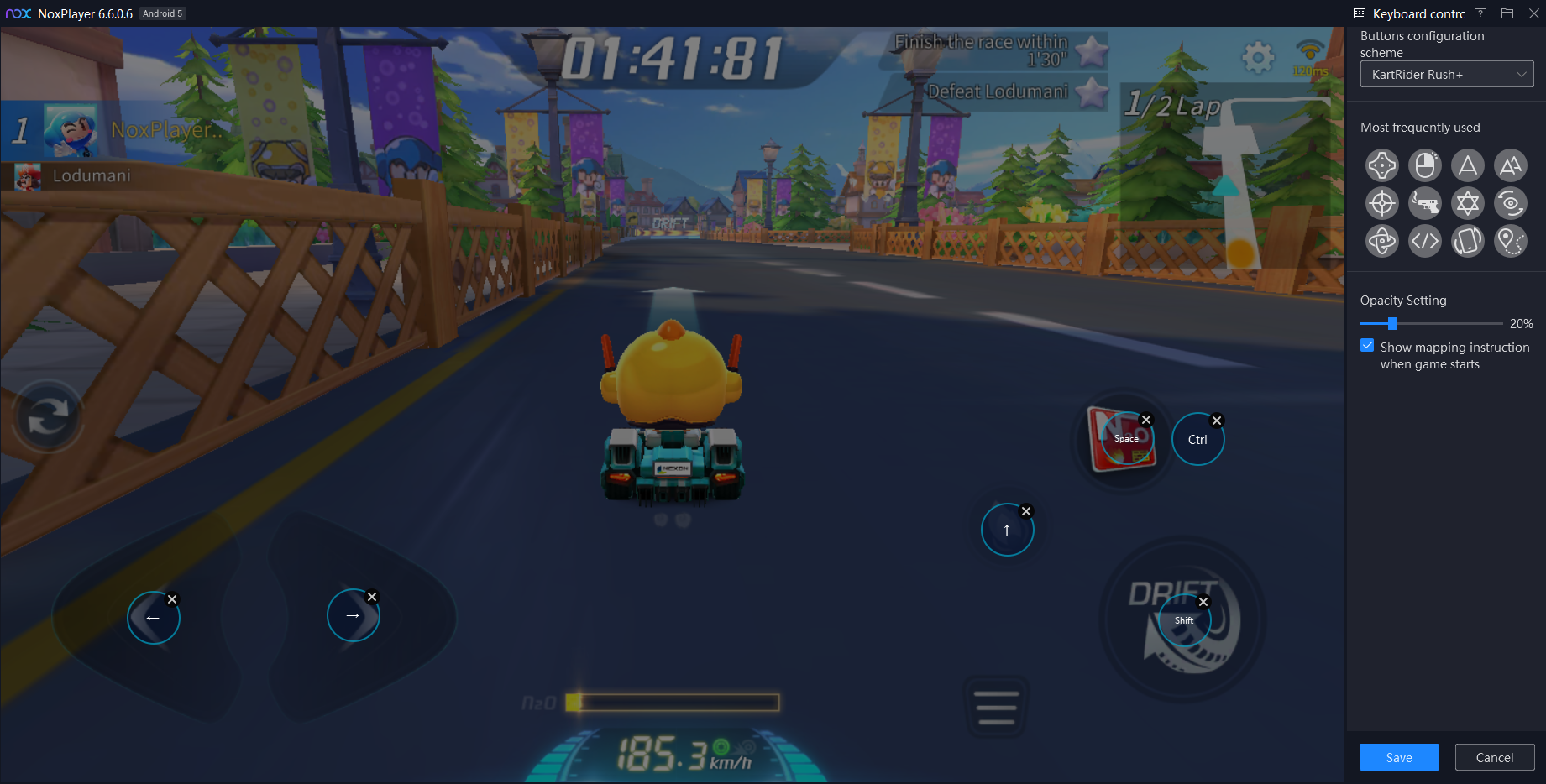 No worries about low battery
There is no doubt that you need to cost lots of time and energy to perfect your skills and defeat the competitors. Therefore, choosing to play KartRider Rush+ on PC with NoxPlayer must be a good way to ease the burden of your mobile devices, and you don't need to worry about the battery life of your phone anymore.
To play it on your PC, just install NoxPlayer Android Emulator on your computer, sign in to your Google account, then search and install KartRider Rush+ from the built-in App Center. You can also search for KartRider Rush+ in the search bar to download the game.