Download Comixology on PC with NoxPlayer
Comixology, the digital comic book store owned by the gigantic Amazon, is a standout service that brings titles from a variety of publishers, including DC, Image, and Marvel, to web browsers and Android and iOS mobile apps thus greatly suitable for reading in your NoxPlayer emulator. Comixology has an excellent Guided View mode that makes reading a pleasure on any device, digital comics that release on the same day as print editions, high-definition comic book files that render stunningly on HD displays, and an Unlimited reading plan that could potentially save you a lot of dough. Generally speaking, Comixology is a close-perfect combination of digital comic book store and reader.
NoxPlayer brings you the best Android experience on your PC where not only you can play your favorite mobile games but also have the opportunity to install all kinds of apps like Comixology and enjoy reading comic books and other content.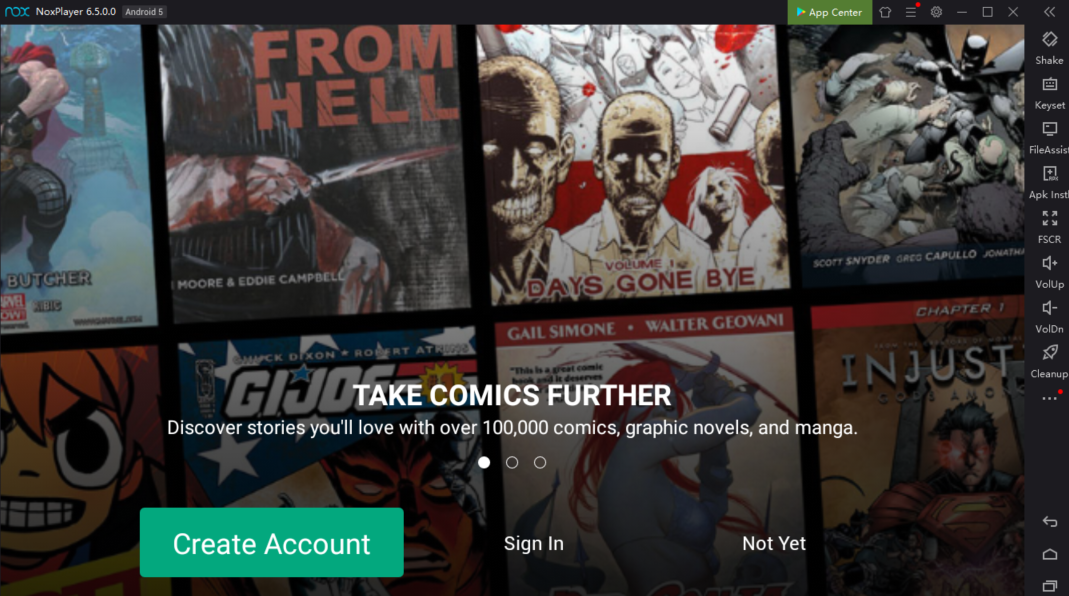 To enjoy your favorite mobile games and have access to the greatest Comic book library with Comixology on your PC, just install NoxPlayer Android Emulator on your computer, sign in to your Google account, then search and install Comixology from the built-in Google Play Store or the App Center.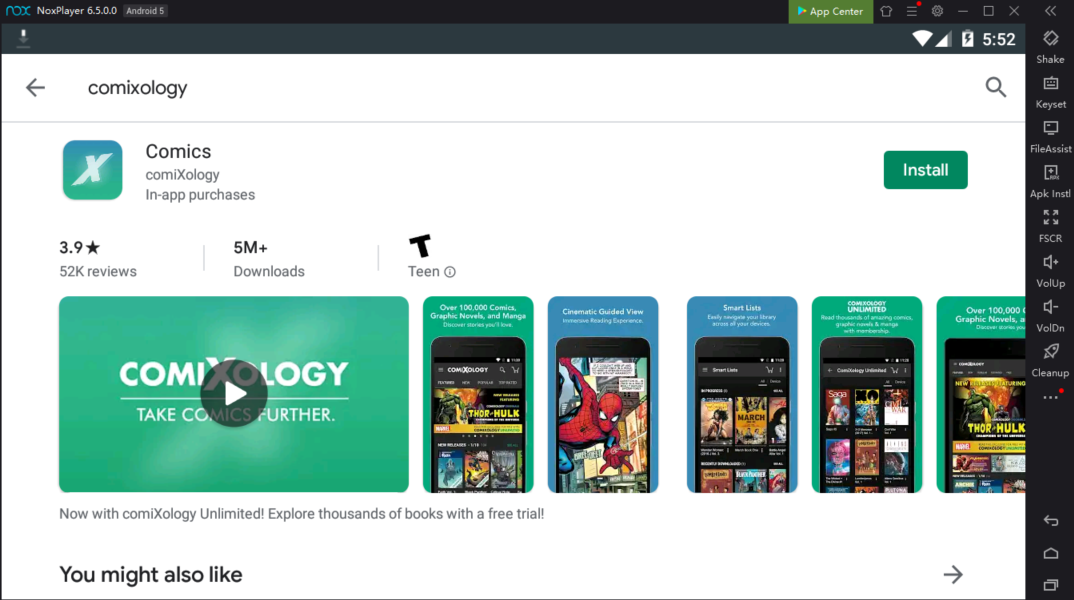 You can also download the apk file from Uptodown, and just drag and drop the files in NoxPlayer; they will be installed automatically. Or use a special version of NoxPlayer, which includes the Uptodown app. From there you can download and install any apk file just with a few clicks and then you can enjoy!
Download Comixology on PC with NoxPlayer
Tips to get the best out of your Comixology App
Create an account or use your current Amazon account: Sign up with your username and password to start downloading and reading content in your emulator.
Take advantage of the free content available: From the home page of the app check out featured content, New titles added, Popular titles across the platform, the Top-Rated listings and hundreds or free editions for you.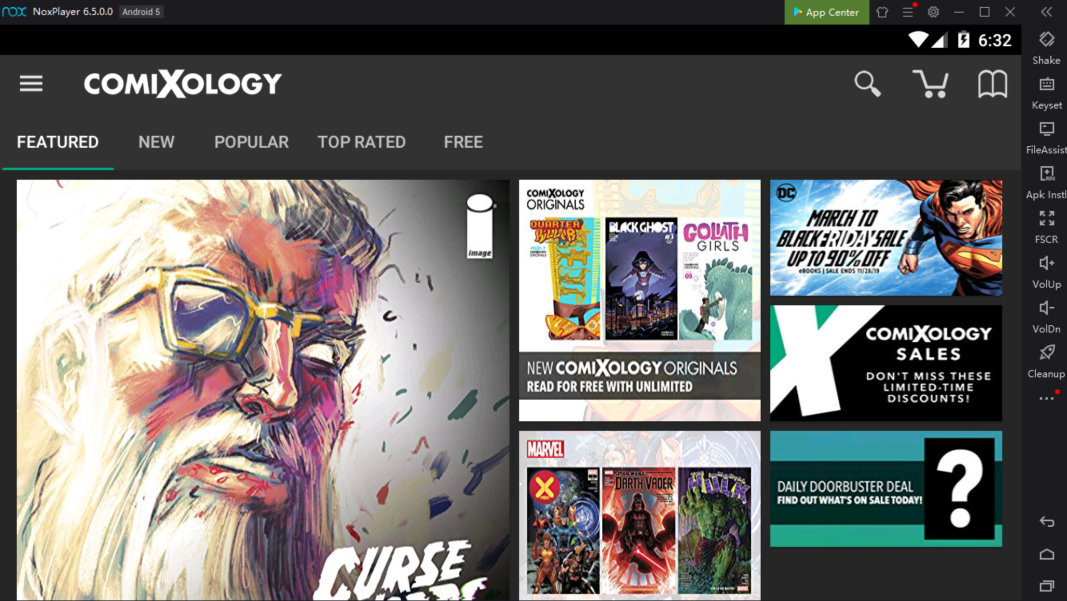 Check out the Newest content: Everyday new listings are being added to the library and you can check them directly on the New tab from the home page.
Categorize your content search: You can browse through the options available on the home page or you can go directly on the right-hand side menu and look up by Publishers, Series, Story Arcs, Genres and Creators.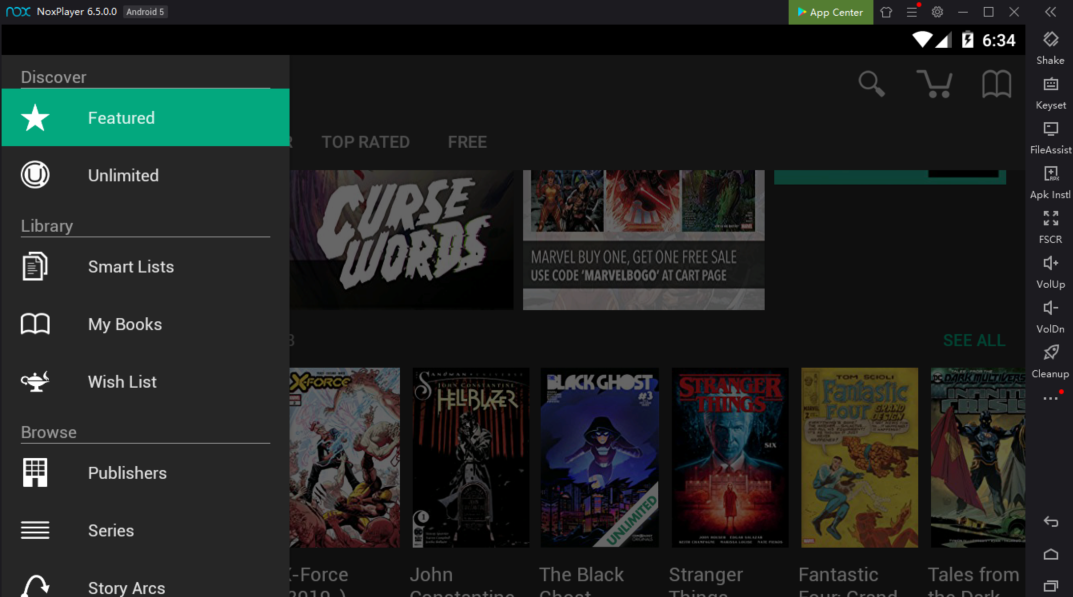 Get a free trial with your account: Sign up to get a 30-day free trial. After the trial you can purchase the titles according to Comixology's terms and conditions or get the best value with Comixology Unlimited for $5.99 a month Subscription to enjoy your favorite Comic Books and Books from over 20,000 digital titles.