Download MeetMe App on PC with NoxPlayer
Socializing has become a pretty wide concept with the development of new technology tools and internet applications. A face-to-face experience no longer requires to have the other person next to you and the language of communication already trespassed the verbal and non-verbal modules. Finding people with similar interests could be difficult at times and nowadays everything moves very fast. MeetMe is a platform designed to help you find people nearby that share many of your interests and want to find someone to chat or someone looking to go out and have some fun. While you play your favorite mobile games in NoxPlayer you can also download this app and start meeting new people that speak your same language.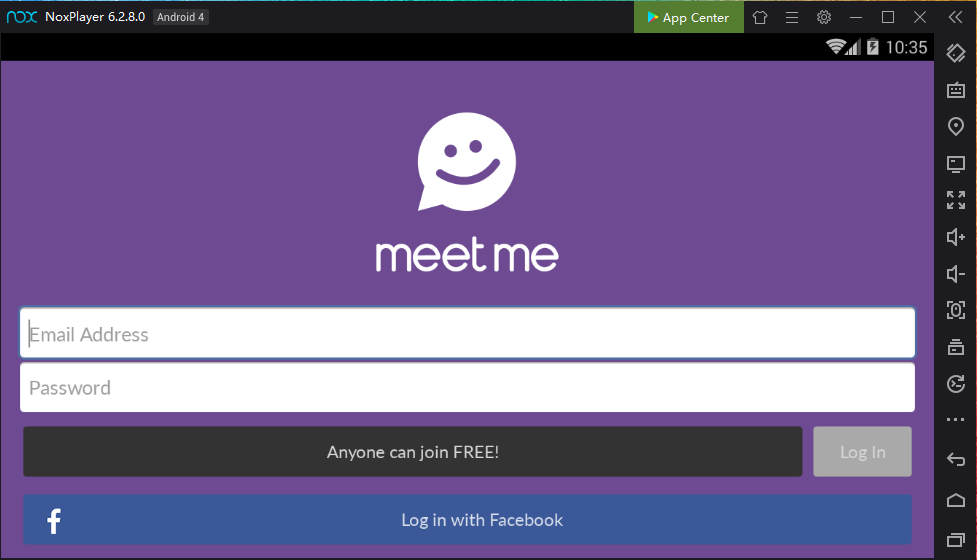 To enjoy to your favorite mobile games and meet some new people in MeetMe on your PC, just install NoxPlayer Android Emulator on your computer, sign in to your Google account, then search and install MeetMe from the built-in Google Play Store or the App Center.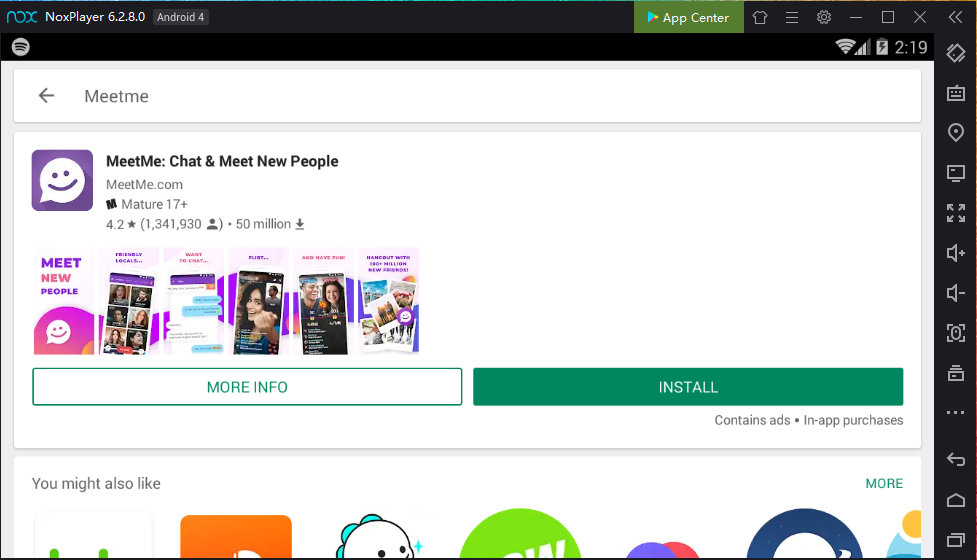 You can also download the apk file from Uptodown, and just drag and drop the files in NoxPlayer; they will be installed automatically. Or use a special version of NoxPlayer, which includes the Uptodown app. From there you can download and install any apk file just with a few clicks and then you can enjoy!
Download MeetMe on PC with NoxPlayer
MeetMe app features
Find people near you: On the Locals tab you have a display of pictures from people close to you, click on the picture you like to see the person's profile and pictures and send a friend invitation or a virtual gift. If the other person accepts the invitation then you can start chatting.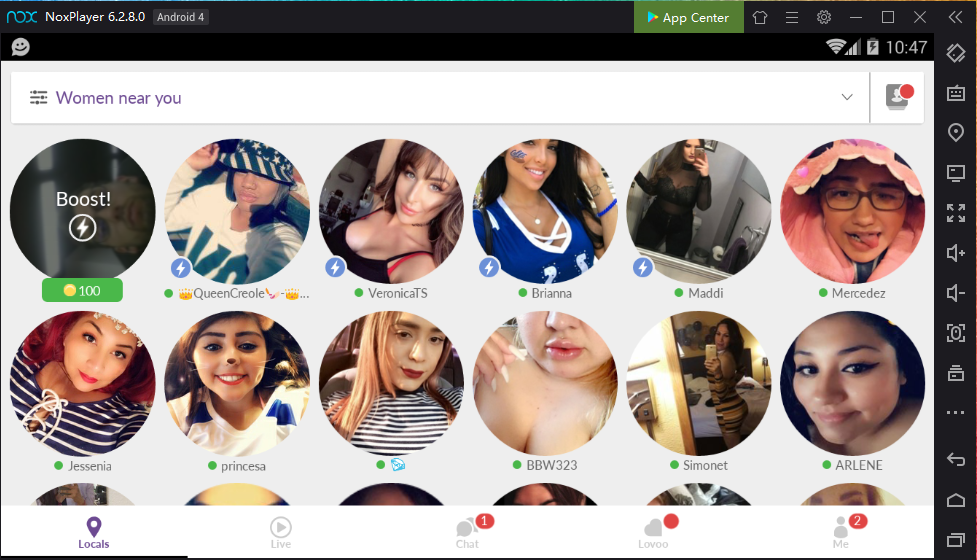 Streaming Live: From the Live tab you can start your own streaming video to share with others anything as long as it is community appropriate or you can also follow others stream. Here you can view trending streamers on the platform, people nearby, new streamers in MeetMe and your previously selected as favorites.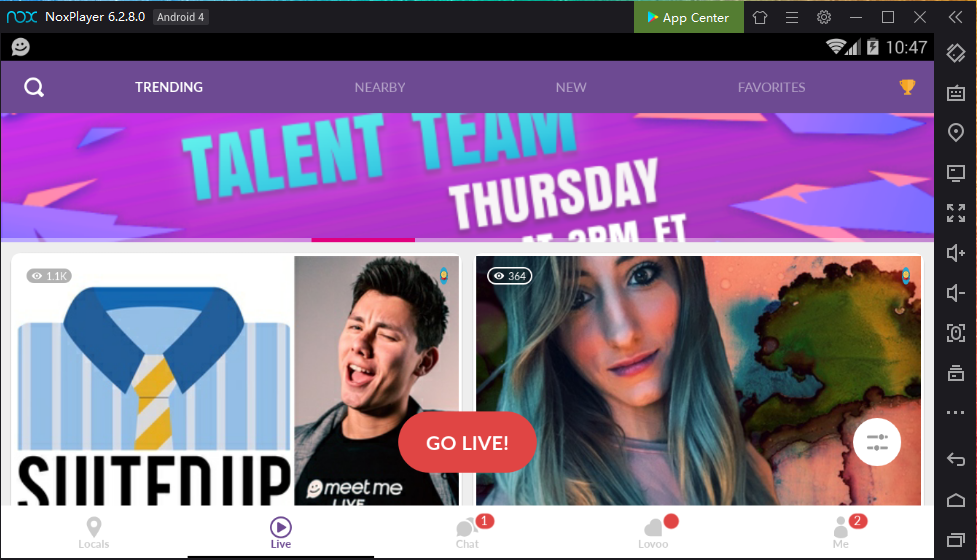 Your conversations: As you spend time on the app, you can find yourself chatting with many people at the time, on the Chat tab you can access your current and previous conversations.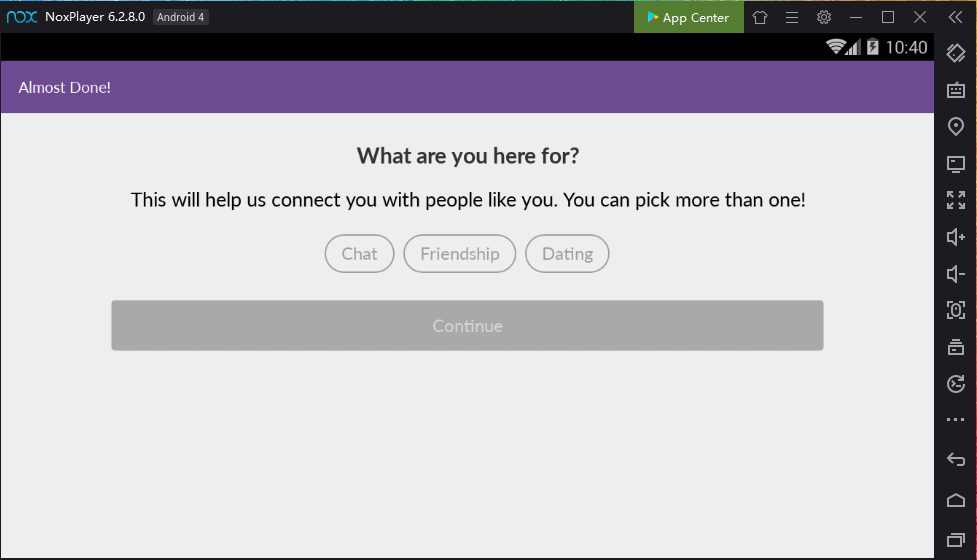 Account activity: On the Me tab you can see the overall account activity, from the settings to the list of friends, matches, if someone has seen your profile and overall notifications. From here you can also obtain Diamonds and credits to participate in the exchange of virtual gifts with your friends and someone you like.