Find answers to all Pokémon Go related issues in Nox App Player
1. Pokemon Go all versions are banning emulators and the game is currently unplayable on Nox. 
Click here for further information
2. How do I start with this game?
Read our text tutorial:
How to Play Pokémon Go for PC in any country
3. Why do I get the "GPS signal not found" message when starting the game?
This is a little bug of the game which may cause problem of catching your location. Reboot Nox and restart the game. Or go to settings-location and set the Mode to High accuracy.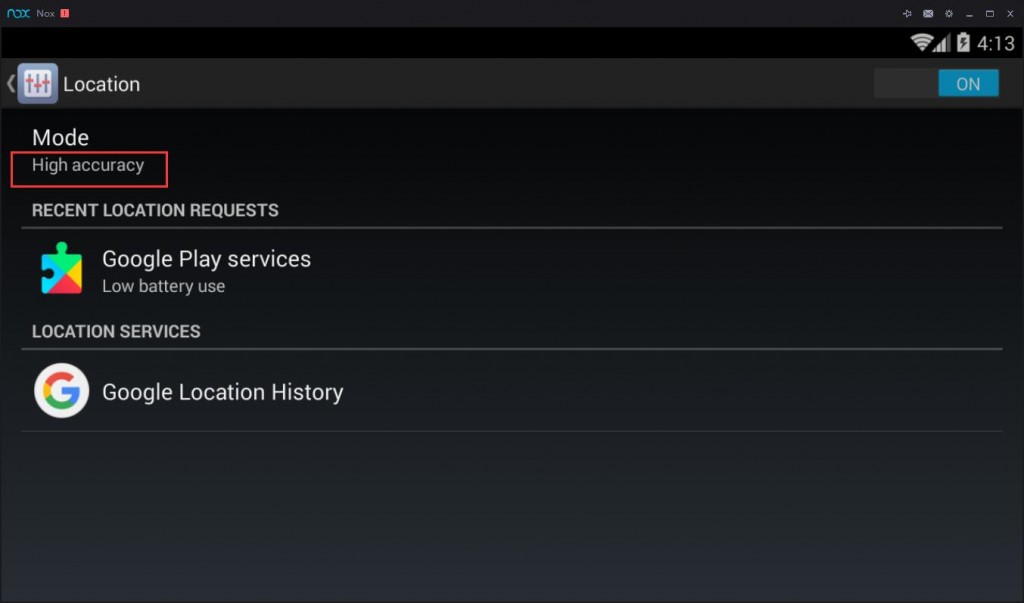 4. Why do I get the message: "Our servers are humbled by your incredible response"?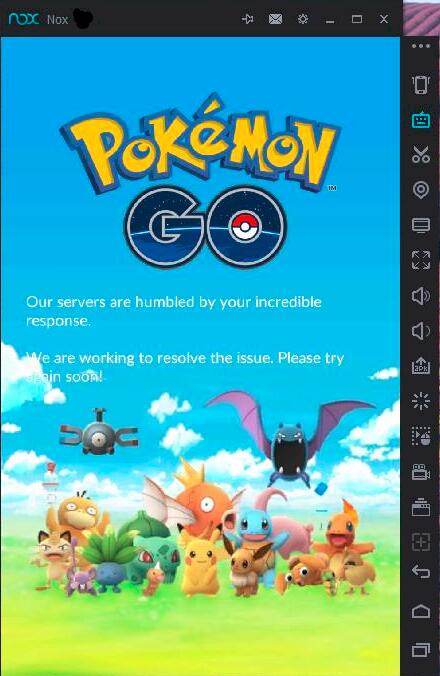 Restart the game or wait for a while until the game server is back to normal.
5. Why there is no pokestops and gyms in my game?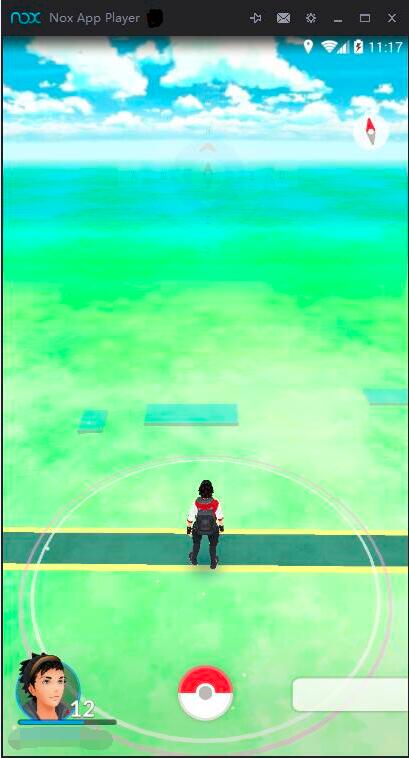 Please check your virtual location and change to another place where this game is supported, like USA and Australia.
6. Why the virtual location map is blank?
1) It may be a problem of slow network. Wait for a while or reboot the emulator.
2) If you wait for a long time and the map is still blank (The operating system is usually Windows 10), please do as follow:
a. Close the emulator first. Download these two files to your computer:
b. Right-click the icon on your desktop

and choose "Open file location". Drag these two files into the folder and replace the existing files.
c. Open Nox and start the game.
7. How do I fix Google related error messages like "the process com.google.process.gapps has stopped" or "Google Play Service has stopped"?
Follow the steps in the tutorial post on our Blog:
Find answers to all the Google Play related issues in Nox App Player
8. What should I do if the game suddenly freezes?
The network may be unstable. Also, since the game is very popular around the world, the game server is under great pressure. Just wait for a while or try restarting the game.
9. Why I can't find the direction controller in Pokémon Go/Why I can't move with WASD?
If you are using Nox App Player: Pokémon Go for PC version, we have pre-set the direction controller for you.
If you installed v3.7.0 and dragged to install Pokémon Go, you need to go to Simulate Touch in tool bar and drag the direction controller  to the game.
If you have already set the direction controller but still can't walk, it means your computer (mainly Windows 10) doesn't support this function. In this situation, you can only move by setting different locations on the map.
10. Why do I have glitch if I open the camera?
This means your computer doesn't support AR function. Please close the camera.
11. I can't input "@" inside Nox
Reboot the emulator.
12. When starting the game, why am I in the sea and receiving the "Catch a Pokémon" message?
It means you are located in a sea or somewhere people can't reach. Please locate yourself manually to somewhere else using virtual location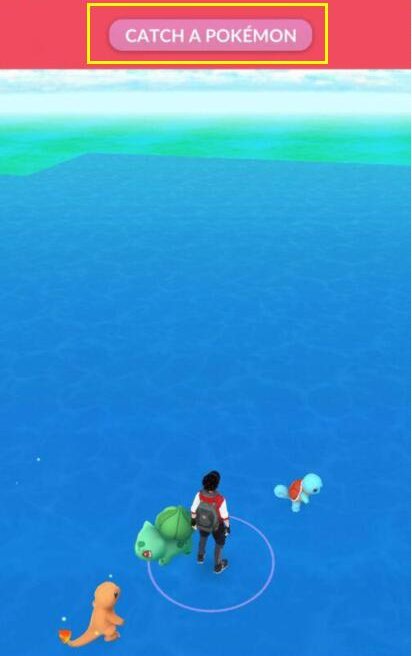 13. Why do I get stuck at this loading screen?
Go to Nox settings-Advanced and change the rendering mode to DirectX.
14. Why my character moves around beyond my control?/ Why my Pokémon Go is lagging?
Turn VT on.
If you have turned VT on but your computer doesn't recognize it, please turn off the antivirus and try again.
15. How to hide the compass on the game screen?
Go to simulate touch, click save and change the transparent degree.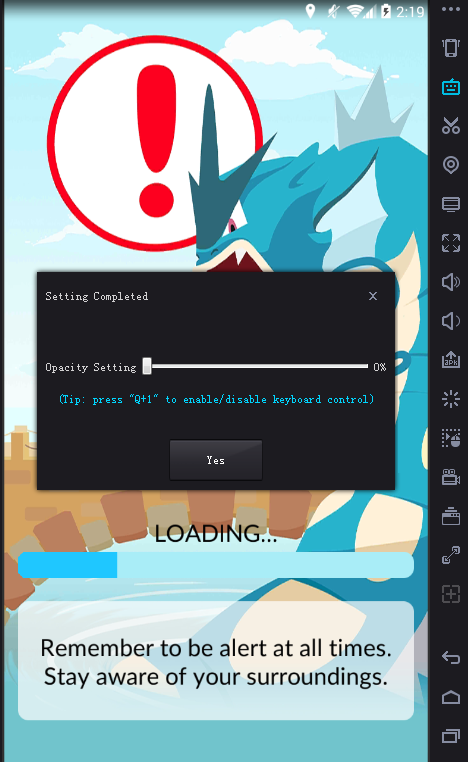 16. Why there is no Google log-in option in the starting page?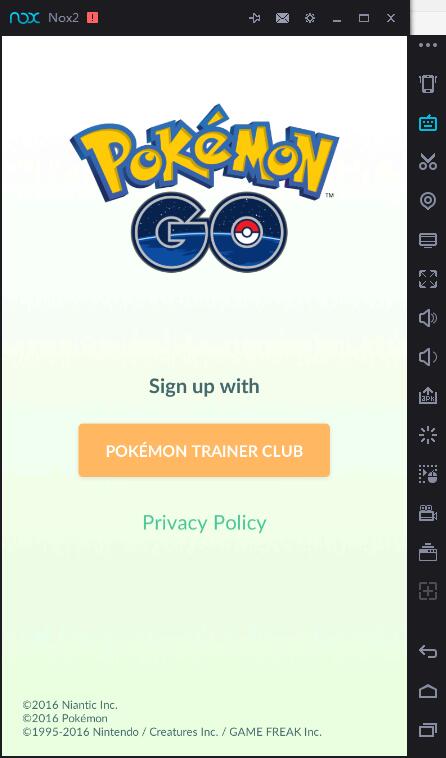 Set your age older.
17. How to update Pokémon Go if there is a new version?
Uninstall the old version and drag to install the new version apk downloaded from Apkpure
Attentions:
This is only a trial version for Pokémon Go players from unsupported countries and Nox App Player doesn't guarantee a permanent using of this game.
Don't make long-distance move, which may be considered as abnormal actions and can easily get banned.
Once it's available in local play/app store, put down your computer, walk out and join the real battle!