How to Play Rocket League Sideswipe on PC? Keyboard+Controller Gameplay!


How to Download and Play Rocket League Sideswipe on PC
Download and install NoxPlayer

Android 9

version here on your PC
Start NoxPlayer, complete Google sign-in to access the Play Store
Look for Rocket League Sideswipe in the search bar and install the game
Click the icon of Rocket League Sideswipe on your home screen to start the game with your keyboard/controller! (We've set default key mappings for both keyboard and controller but if you don't like it feel free to config it any time: How to config keysets on NoxPlayer?) 2021/12/15 Update: we've added a default keybind for the boosted jump button in the default key mapping for controllers. Boosted jump can be enabled in settings >> show options >> Control customization >> configure. Check this tutorial for detailed tricks and tips.

Play Rocket League Sideswipe on PC with NoxPlayer
1. If you've already got Nox installed on your PC and you don't know which Android version to use, please kindly note that RL Sideswipe is a 64-bit game and can run on both 64-bit Android 7 or 9 emu. Go to Multi-Drive >> add emulator >> Choose either Android 7 64-bit or Android 9 >> launch the new emu >> Install the game

2. If the game crashes, first try reopening it. If it still crashes, press and hold its icon and click uninstall >> restart NoxPlayer >> reinstall the game >> restart the game and you'll get the issue resolved! If it's still crashing, follow the instructions below to switch to Android 7 64-bit or Android 9.

3. If you tried to look for the game in the Play Store app and it says version incompatible, please first make sure if you are already on Android 7 64-bit/9 (you can check this in your system info) >> if so, clean your Google service cache in your settings >> restart NoxPlayer and look for the game again. If its still not working, follow the instructions above to add a new 64-bit 7/9 instance and install the game again.

4. If you got the in-game notification saying "Unable to run on this device", go to settings >> performance >> change the graphics rendering mode to enhanced compatibility mode (OpenGL+) >> then click save settings

If it's still not working after you've configured the settings, follow the instructions to update your graphics card.
From the makers of Rocket League, car soccer has been reimagined for mobile devices! Get in the game with the intuitive touch controls. It's as simple as putting the ball in your opponent's net, but watch out! Your opponent will try to score too. Hit your boost to go faster, or use it to get off the ground and into the air to pull off some siiiick maneuvers in the air leaving your opponent in awe.
We've prepared default keyboard and controller mappings for you! 
Play this sick Game on PC with Noxplayer with keyboard+Controller, unleash the PC gaming experience you always dreamed of!
Visit the website of NoxPlayer

Some tricks & tips you might need for RLSS
Check this blog here for instructions on doing red/purple/gold shots:
Rocket League Sideswipe Guide: Shoot, Speed Flip (Do Red, Purple & Gold shots)
Another trick though, don't forget to enable boosted jump in your settings >> control customization >> configure 
Enjoy! :]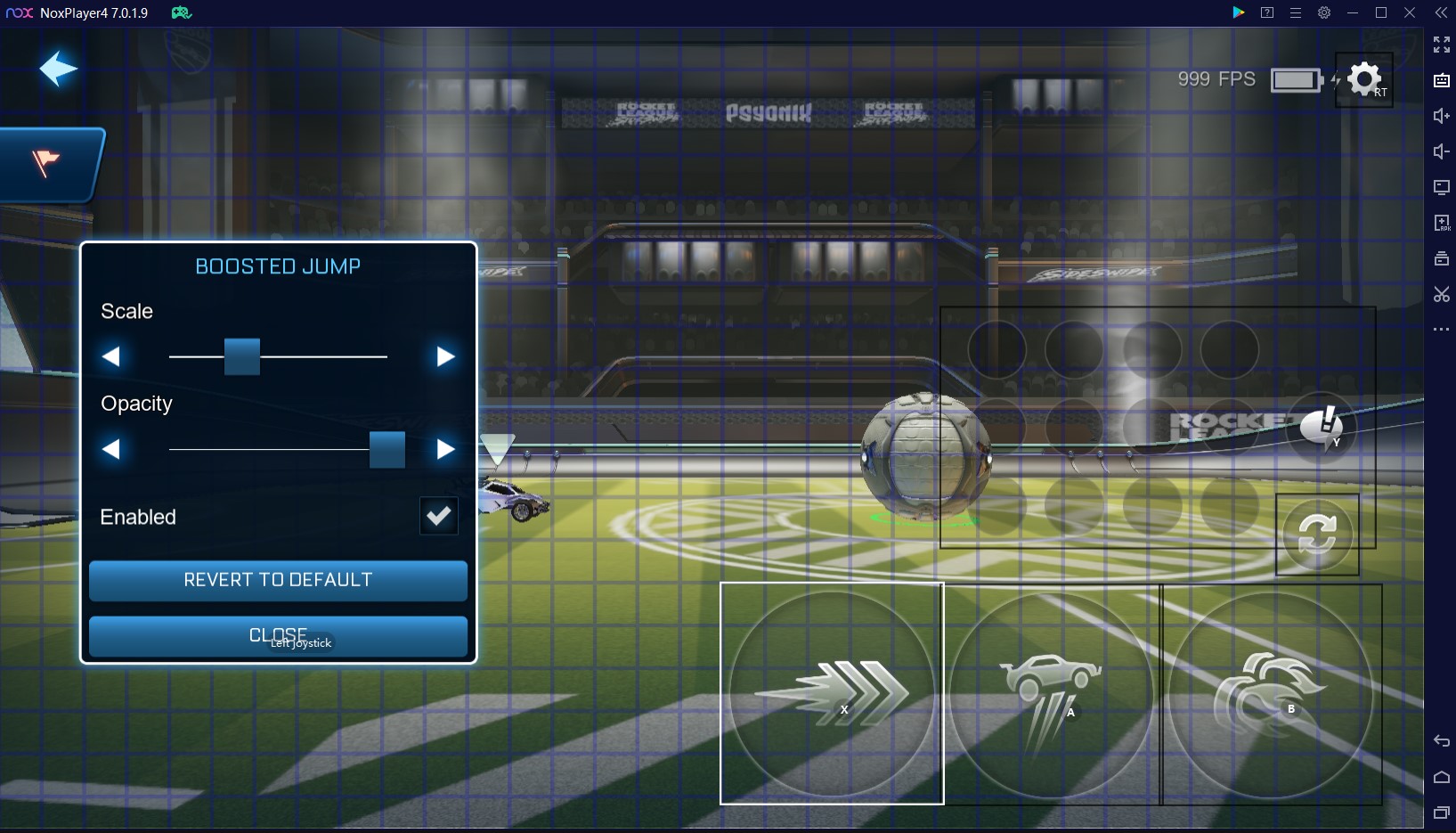 NoxPlayer, the perfect and fully-optimized Android emulator to play mobile games on PC, has been providing users with the best gaming experience for 6 years. Compared with traditional emulators, NoxPlayer is the only one so far to support all versions of Android engines – 5.1, 7.1, and 9 (both 32 and 64 bit), while compatible with both X86 / AMD and Mac OS. NoxPlayer allows running high-performance and high-graphic mobile games on PC with extremely high compatibility and stability, and extreme frame rate.
NoxPlayer provides the ultimate gaming experience on PC. We believe every detail matters. On NoxPlayer, gamers could experience a clearer view, an easier way to control characters, a smoother gaming experience, higher compatibility and performance, and… these won't leave us satisfied. For you, we've added features like macro, script, video recording, live mode, animated theme, and will add more in the future.