Play Love Nikki on PC with NoxPlayer – Beginner's Guide
Love Nikki-Dress UP Queen is a mobile game created by Paper CO. China and published by Elex. The premise of the game is to style the main character Nikki and challenge NPCs and players alike in style duels, where the participant with the best and most relevant fashion sense wins!
And now you have the opportunity to play Love Nikki-Dress UP Queen on your PC. To do so, just install NoxPlayer Android Emulator on your computer, sign in your Google account, then search and install it from the built-in Google Play or App Center.
You could also download the apk file from Uptodown, and just drag and drop the file in NoxPlayer; it will install automatically. Or use a special version of NoxPlayer, which includes Uptodown app. You can download and install any apk file just with few clicks! Then you can enjoy!
Click to download Love Nikki-Dress UP Queen on PC
Due to the vast amount of game play and the fact that there is no real tutorial for the game, Love Nikki can be hard for new players to grasp and there's a very steep learning curve. Here's a guide of the most useful tips for newbies, tricks for getting ahead, and all the info you'll need to succeed!
In no particular order:
Tip #1 – Don't Forget to Do Your Dailies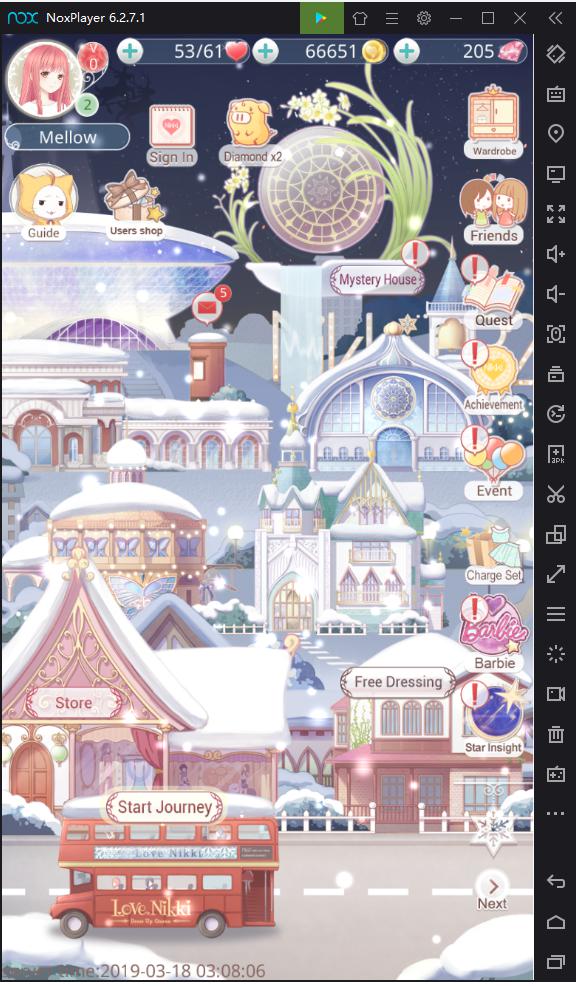 Every day, there are things you should claim and check to maximise your results in the game. Here's a little routine and you might find it easy to do too. You could finish "dailies" in about 5-15 minutes doing it this way.
– Click the Sign In button and collect your log in item.
– Go into the Stylist's Arena and compete 5 times.
– Go into the Competition and judge 30 times. If applicable, dress your Nikki for the theme and apply for the competition.
– Check your mailbox and collect any System Mail (usually rewards from the Stylist Arena or the Competition) and collect your stamina from friends.
– Go into the Mystery House and claim your tickets/receive your free item in the Pavilions. You can claim 1 ticket every 24 hours in the Room of Mystery and 2 tickets in the Pavilion of Mystery. The Corridor of Clock and the Porch of Misty give you 1 ticket each, every 48 hours.
– If you're in an association, go into the Stylist Association and do the commission, sort material in the Library, and shop for dyes and fabrics in the shop. Also, say hello to your teammates in the Bulletin board, if you'd like to 🙂
– Go to your Home and complete your Life Bits, go into My Community (if you've joined one) and visit each home and do their Life Bits, go into Visit and Wander to 5 different homes. You can get a free ticket from the Wish Court once every 48 hours.
– Finally, go into Quest, and claim your rewards for doing the above things. You should be able to unlock all 5 gift boxes every day (giving yourself 53 extra diamonds each day), and if you're missing anything, use the Daily Quest to give yourself some goals to unlock more boxes (for example, "complete any 5 quests with S Rating" or "Buy or exchange for any 2 items in any store").
Tip #2 – Join an Association!!!
– Associations are small support groups for the game. You can create your own or apply.
– Be active in your association. Everyone benefits, including yourself. By doing Commissions you can collect material that will allow you to buy suits only available through Associations. You can earn Association coins by sorting material as well (which is available through one free attempt daily) or donating a book (costing 88 diamonds). You can also read stories in the Library which boost your earned gold, your stamina, and score totals.
– The Association Store is where you can buy dyes, material, or items in Association Available suits.
– The Bulletin is where you can talk with your Association.
– You can leave an Association by pressing the "Info" icon at the top right and then pressing "Quit Association"
Tip #3 – Add Friends
Adding friends brings a lot of perks likes daily stamina boosts, help fulfilling daily quests and even special suits if you manage to add 60 friends. There are a number of places online where you can find active player codes. To add friends, simply tap on the Friends icon and at the top right-hand side of the screen, tap "Search Friends". Sometimes the game will suggest friends for you, or you can enter a friend code and click "apply" to send a request. Sometimes it takes people a little while to add you but it's worth the effort.
Tip #4 – Follow Momo's Tips to Get the Highest Score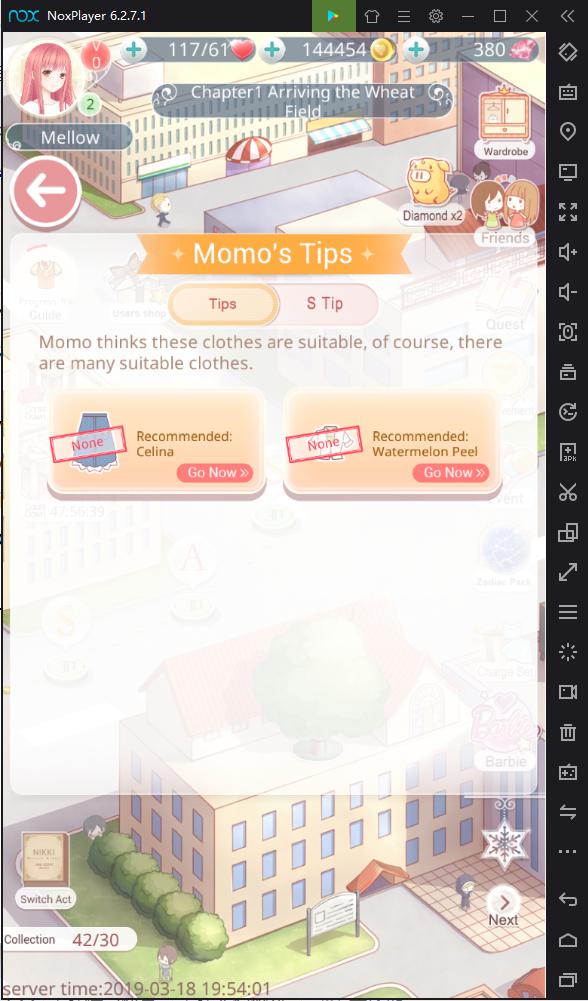 For each chapter in the story, Momo will have tips on what to wear. If you buy or craft all the items he requests, you can pass the level with an S score!
Make sure you click on the S Tip tab and collect all the items Momo suggests to pass the level with the highest possible score.
Tip #5 – Share to Facebook to Get Rewards!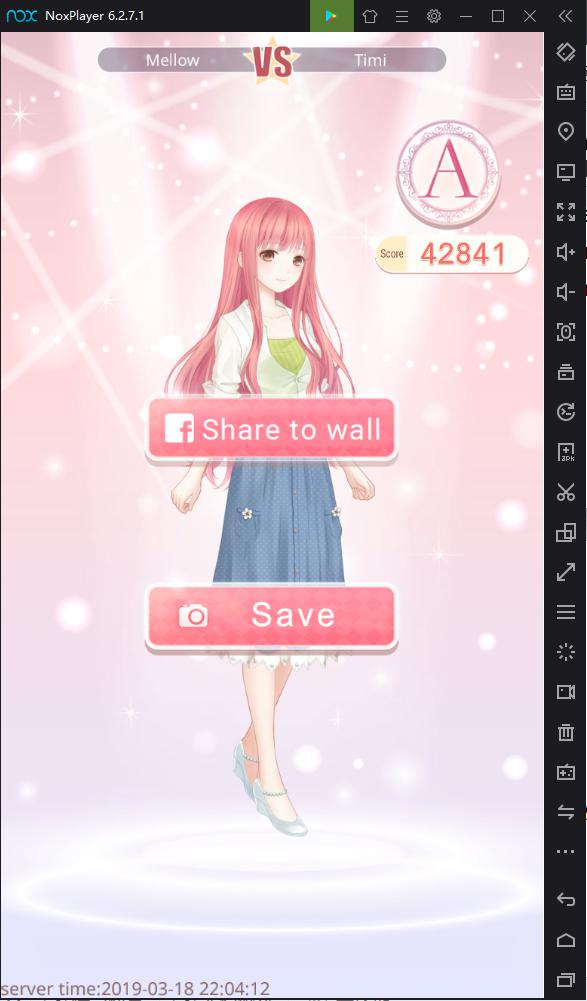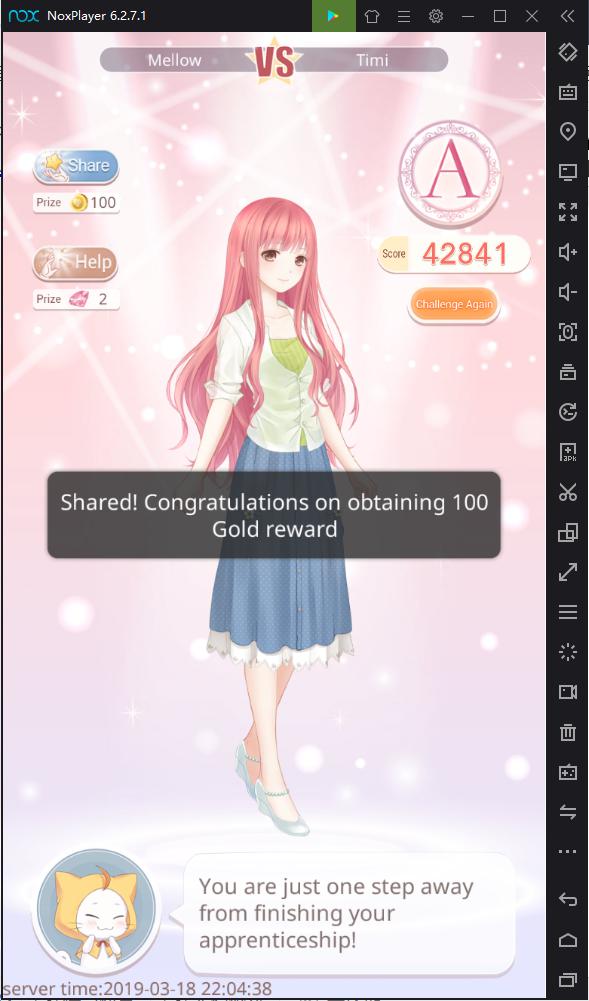 If you link your game to your Facebook account (which is highly recommend, as it's the easiest way to keep your game saved, should you ever change devices or have to uninstall and reinstall the app again), you'll get the option to share your new outfits, achievements and screenshots to your Facebook page. The reward for doing so is small amounts of diamonds or stamina, but it's worth doing (and one of the dally tasks is to share 3 times a day!).
The best part is you don't actually have to post it to your wall. Simply back out before posting completely to your wall, and the game will register it as having been shared, even though you didn't post it on your page!