Stuck at 99% with no error message on 20th September due to Google Android update
On 20th September 2015, Google rolled out an official update of Android. Many Nox users have been influenced by this update as well as some Android phone brand and other emulators. If you encounter this stuck at 99% senerio, please try restart Nox later to see if it get fixed. If not, you may have to reinstall Nox. If you have important data and don't want to lose them by reinstall, please follow the below steps to fix this problem:
1. Download this file to your computer and unzip it. You will find three file: fix_rom_exception.bat, libandroid_runtime.so, README.txt
2. Copy and paste these three files to \Nox\bin folder under Nox installation path (you could find this folder by right click the Nox shortcut on your desktop-Open file location)
3. Start Nox and when it loads up to 1% double click the above file  fix_rom_exception.bat, wait for around 10 seconds and there will be a window like this one: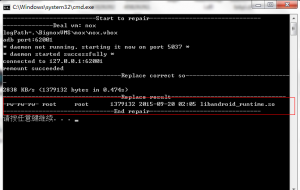 When this shows up, it means the repair is successful.
4. Close  fix_rom_exception.bat and Nox.
5. Restart Nox.
If this does not fix the problem, please try the solutions introduced in this post instead: Stuck at 99% when starting up Nox App Player? Here's the fix.
Don't hesitate to contact us for further help through [email protected]