Solutions to virtual machine error
Virtual Machine is the foundation of Android Emulator and for Nox App Player, it's no exception. If you run into Virtual Machine Errors as shown in the screenshot below, we have summarized here some possible solutions: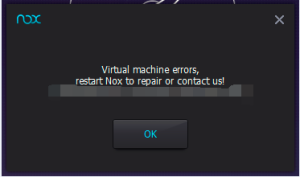 Solution 1: Go to C:\Program Files\Bignox\BigNoxVM\RT\drivers\XQHDrv folder, right-click on XQHDrv.inf and choose install. Then restart Nox.
Solution 2: Quit any other android emulator or mobile security software and restart Nox.
Solution 3: Download this file: Virtual machine error patch, unzip it and run the two exe file. Then restart Nox.
Don't hesitate to contact us for further help if these do not work on your computer. Customer service email is: [email protected]