KonoSuba: Fantastic Days Official Release Date and Showcase Announced & A Brief Guide
Cr: twi@PlayKonoSuba
Here is Everything You Need to know about this announcement:
The famous RPG game, Konosuba: Fantastic Days – God's Blessing on this Wonderful World has announced its official global release date: August 19 at 11AM PT (2021-8-19). Fans of Konosuba worldwide (including the U.S.) could finally enjoy the game! The game will be supported in English, Korean, Latin America Spanish, Brazilian Portuguese, Russian, French, German, and Japanese for both Android and iOS users. Pre-registration is currently available on Google Play Store and NEXON's website, go check now!
And also on Aug. 19 at 11AM PT/2PM ET, there will be a Global Launch Showcase featuring Host Jacki Jing, Host Malik Forte, voice actor and Youtuber SDawgVA, Youtuber GiggukAZ, and Youtuber thean1meman. Gamers could go to the Youtube channel of Nexon Mobile Games for this live event.
About the Game
Kono Subarashii Sekai ni Shukufuku wo! Fantastic Days! (japanese: この素晴らしい世界に祝福を!ファンタスティックデイズ, literally: "God's Blessing on this Wonderful World! Fantastic Days!" and Konofan for short) is a mobile RPG based on Natsume Akatsuki's (暁なつめ) Konosuba light novel series. Famous characters like Kazuma, Aqua, Megumin and Darkness will be able to be recruited by the players to start their own fantastic journey in this isekai!
KonoSuba is a spectacular Anime RPG brimming with fantasy, laughter, and EXPLOSIONS! In this World, You have been summoned, brave traveler, to a world threatened by the Devil King's army in the first KonoSuba mobile game ever to be released globally. The journey may be long and perilous, but do not fear! You won't be going empty-handed…joining your party will be all the KonoSuba characters you know and love, along with some fresh new faces. Embark on your adventure, and rescue the realm from the forces of evil! Although, when it comes to Aqua, you may have to do most of the rescuing yourself…especially against those pesky giant toads.
Fantastic Days await you!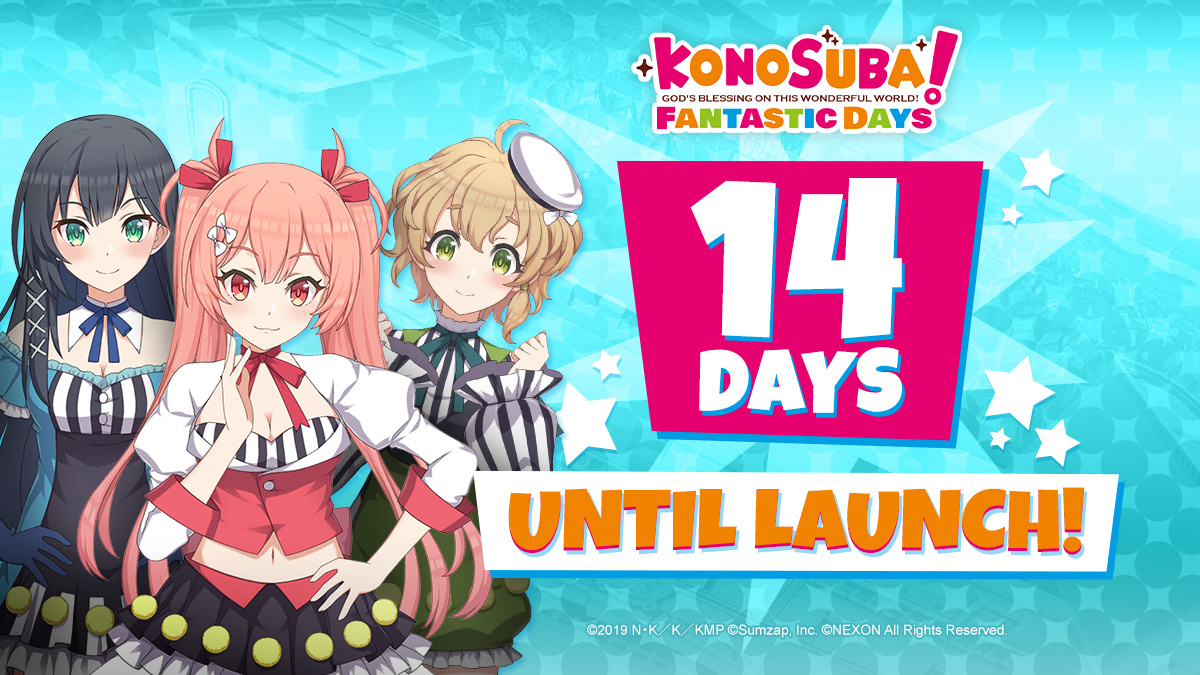 A Brief Guide to the Game
1. Battle Tutorial: you will get a battle tutorial first to learn how to battle in this game.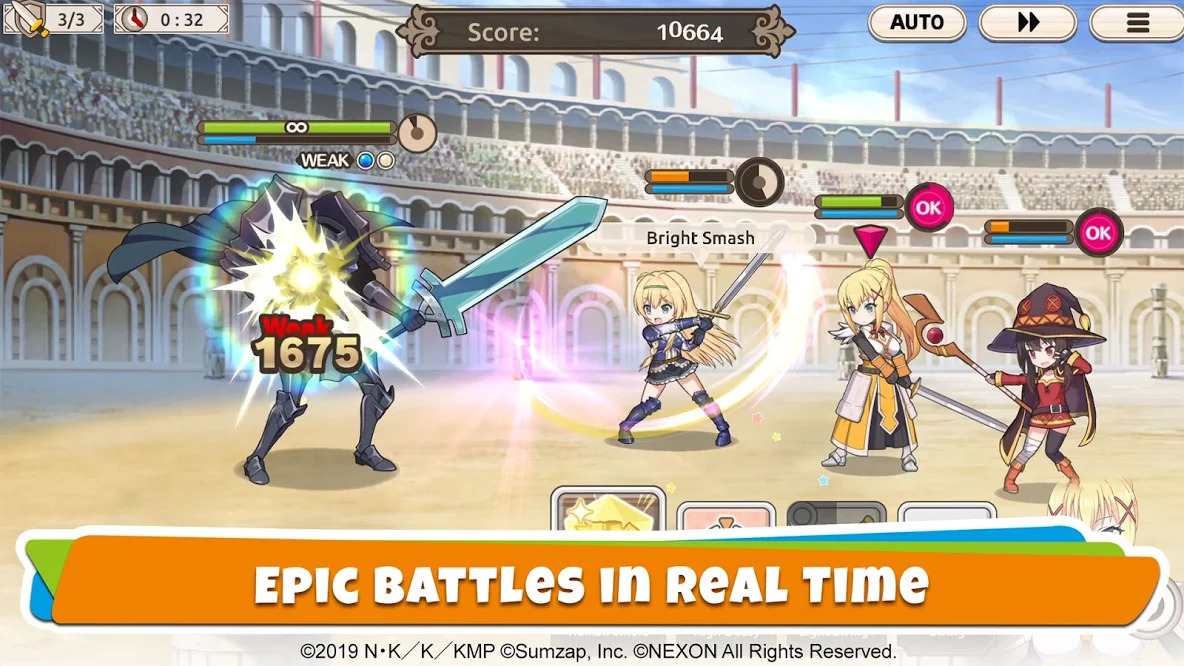 2. Game Setup: after the battle guide, you will be introduced to config your player name, and get a guide that explains the game in a nutshell.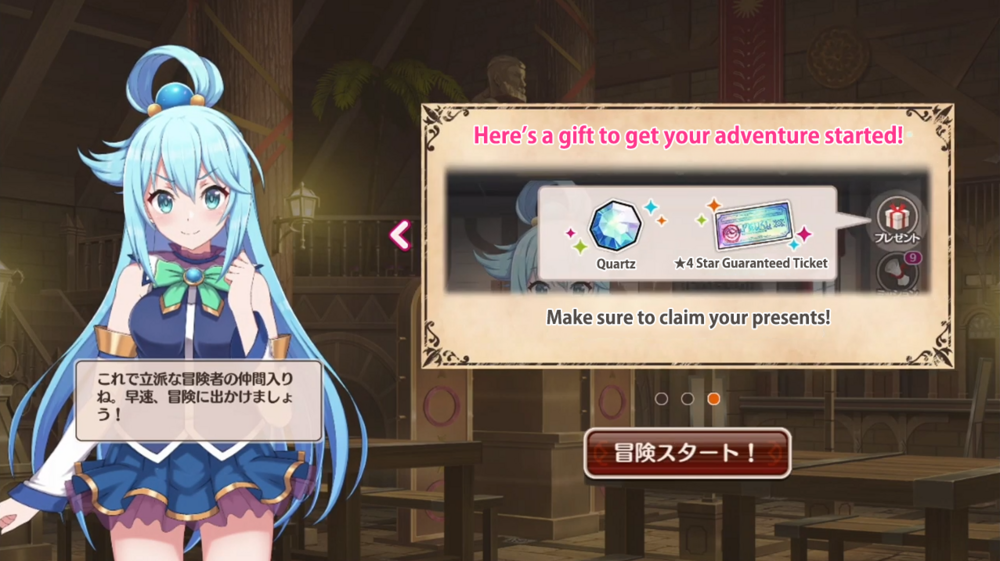 3. Title Screen: When you click on the menu button, instead of starting the game, you will be greeted with the following screen: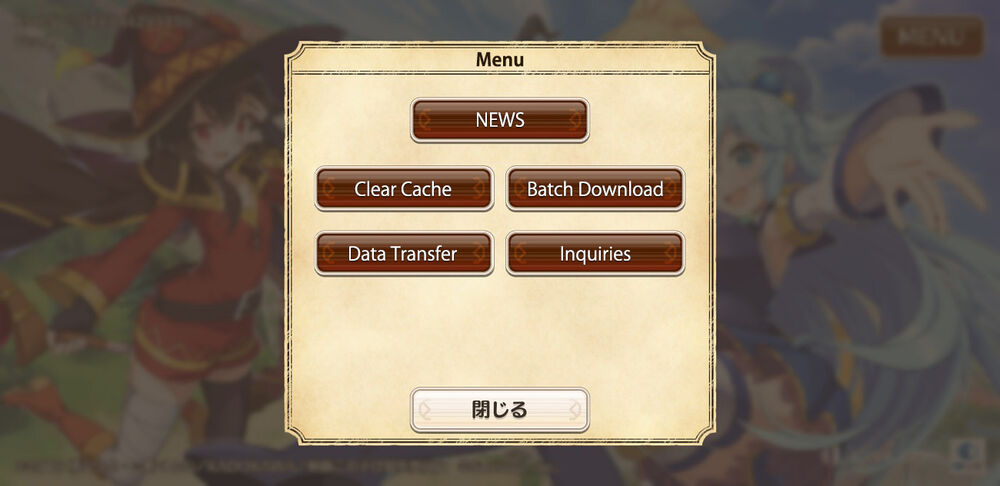 4. Game Progression: this chart briefly shows how you would progress in this game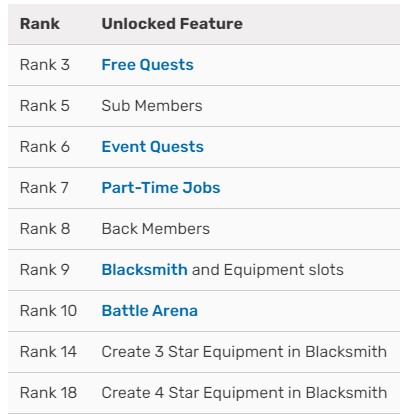 Can You Play the Game on PC?
This answer is YES. Using an emulator, players could run basically any mobile games on PC, including RPG, MOBA, SLG and so on. If you want to try it, we would recommend NoxPlayer emulator.  (What's an emulator and what's NoxPlayer? To learn more details click here)

On NoxPlayer, users can run mobile games at any Android version (Android5/7/9). And, Compared with traditional emulators, NoxPlayer is the only one so far that supports all versions of Android engines – 5.1, 7.1, and 9 (both 32 and 64 bit), while compatible with both X86 / AMD. Gaming with PC screen and keyboard, users could get both a better visual and a greater keyboard-control experience. By creating multiple instances, users can login multiple accounts, and perform "multi-tasking" – to run not only games, but also social apps, or in some circumstances, both, simultaneously.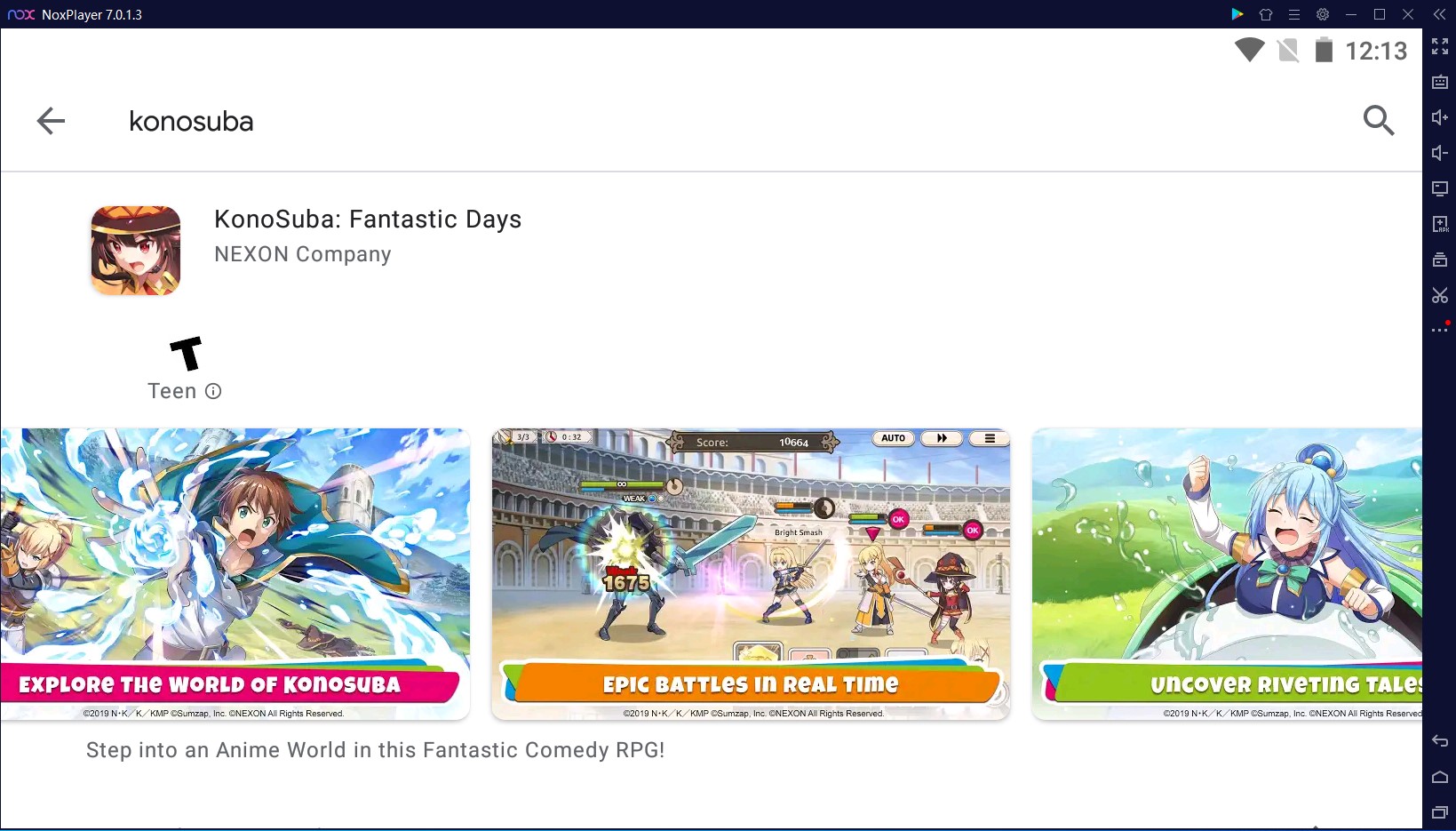 How to Play Konosuba: Fantastic Days on PC?
1.Download NoxPlayer emulator and install it.
2.Sign in to access Google Play Store.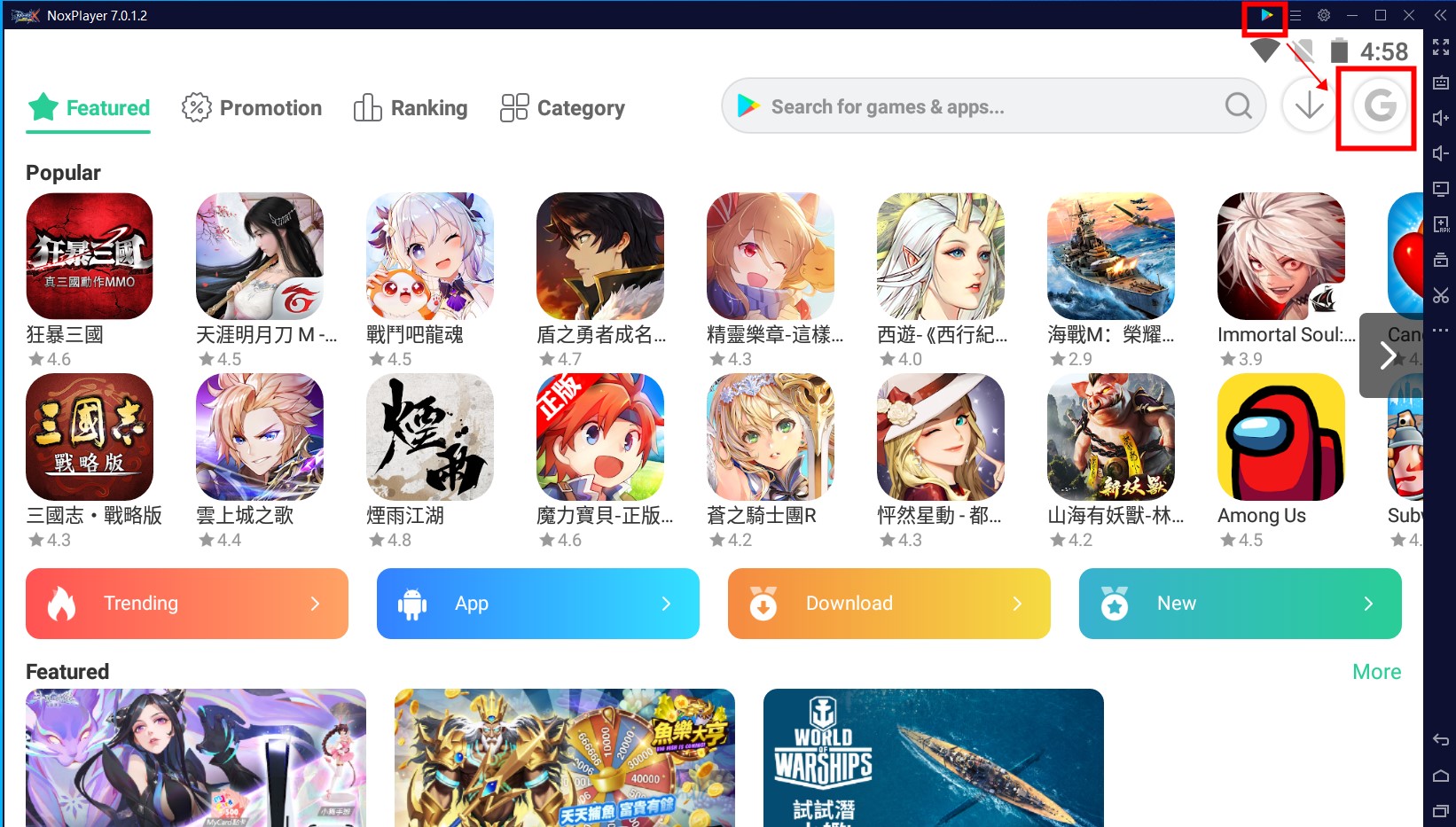 (There will be an auto pop-up notice, if not, you could access Google Play via the upper right corner icon)
3.Search for Konosuba: Fantastic Days in the searching bar.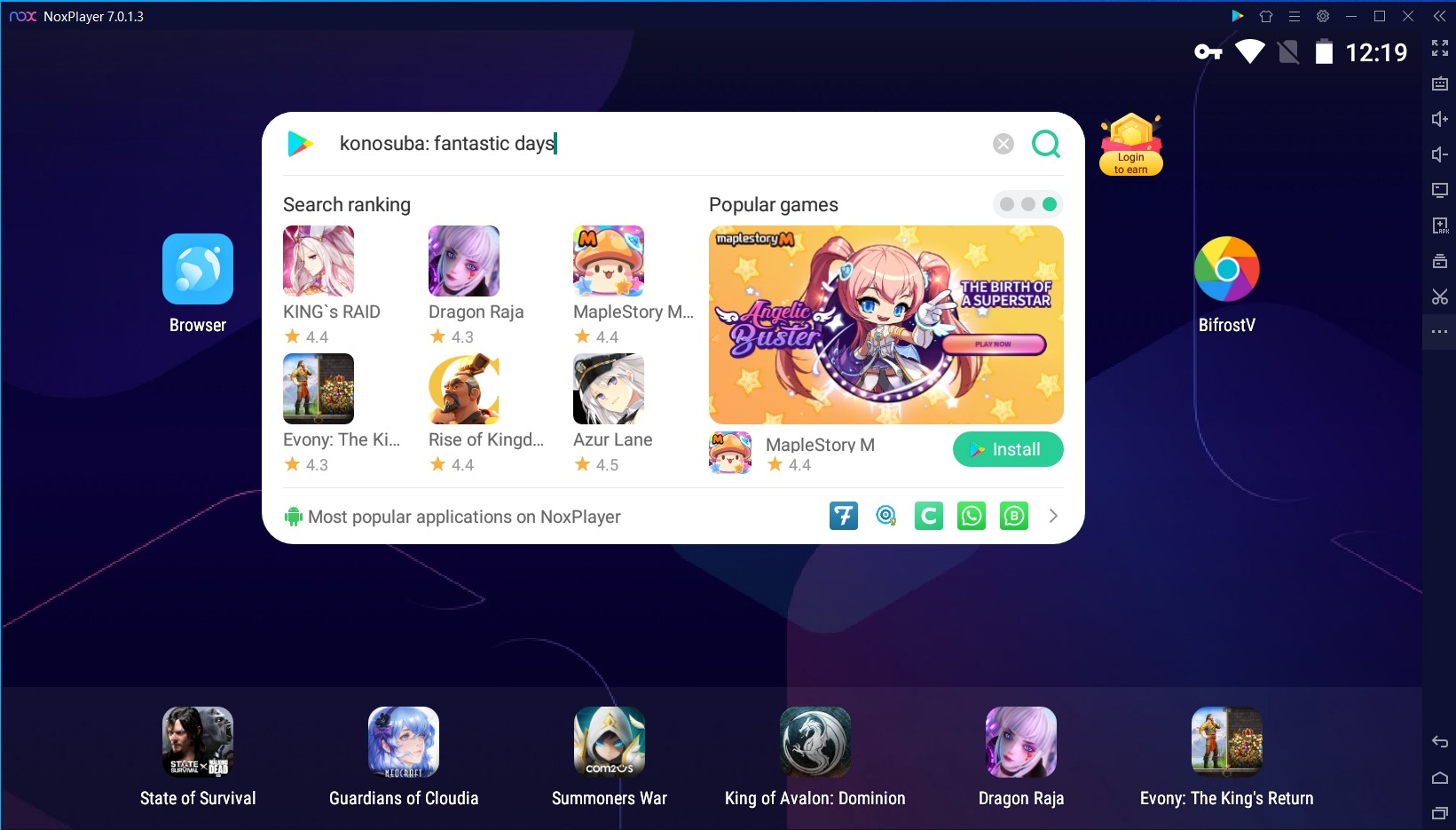 4.Install the game and enjoy! 
Why NoxPlayer?
NoxPlayer provides the ultimate gaming experience on PC. We believe every detail matters. On NoxPlayer, gamers could experience a clearer view, an easier way to control characters, a smoother gaming experience, higher compatibility and performance, and… these won't leave us satisfied. For you, we've added features like macro, script, video recording, live mode, animated theme, and will add more in the future. 
We are the game master, and so are you.
Stay tuned, wait for more upcoming excitement.
For more info, please check Nox's website and FAQ site.
Check out the Official Trailer here: