This CPU model is currently not supported?
As stated in our System Requirements, Nox App Player could only run on dual core and above processors. Single-core processor will be popped with the below error message when installing Nox: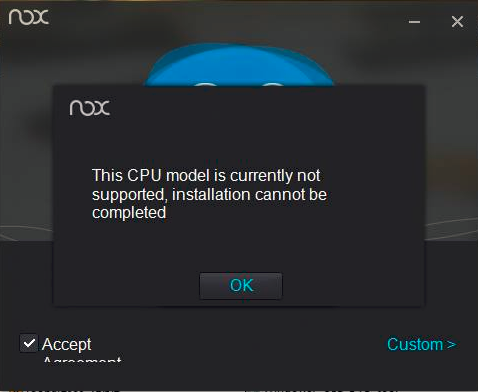 There's no solution other than upgrade your computer.
How do you know how many cores your processor has? You could Open Device Manager by clicking the Start button
, clicking Control Panel, clicking System and Security, and then, under System, clicking Device Manager.‌
 If you're prompted for an administrator password or confirmation, type the password or provide confirmation. Under Processors you will find the number of cores listed.
Another quick way is to download this small tool we developed called checkCPU and double click to run it. You will find a window like the example shown below. The number shown under NumberOfCores clearly shows your number of cores. In this example, it's dual-core.