How to fix NoxPlayer Error 1017- System error, please restart.
When using NoxPlayer, some users may suddenly stuck at 99% and see the below error message: System error, please restart. If restart fails, you can try to recover to the original state.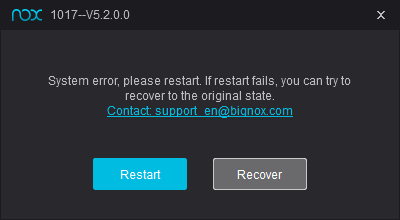 This is possibly caused by your Avast settings which have blocked the proper startup of NoxPlayer. Please follow the below steps to solve it:
Open Avast >> go to Settings >> Troubleshooting >> un-tick the box before Enable hardware-assisted virtualization >> click OK >> restart your computer. Please make sure to restart your computer, otherwise the changes may not take effect.
Another option is to update your Avast to 17.8 version.
#If you tried the above solution but the error still remains, please contact us via email: support_en[at]bignox.com for further help. Make sure to send us a screenshot of the error message and mention "Error 1017" in the email title.